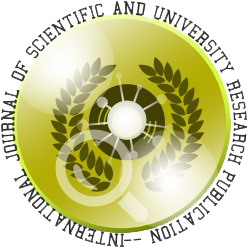 Antibacterial and Antidiarrhoeal Activities of Dichrostachys Cinerea Against Some Enteric Pathogens
Authore(s) : ZumbesH.J || Department of MicrobiologyFaculty of Natural SciencesUniversity of JosNigeria.
Volume : (3), Issue : 211, January - 2017
Abstract :

The in vitro antibacterial activity of the aqueous, ethanol and petroleum ether extracts of Dichrostachys cinerea were tested on some bacteria associated with diarrhoea namely; Escherichia coli, Salmonella Typhi and Shigella dysenteriae using agar well diffusion band broth dilution method. The extract inhibited the growth of almost all the test organisms though with different zones of inhibition. Although the petroleum ether extract was not effective against Shigella dysenteriae and Escherichia coli at all, but was effective against Salmonella Typhi except at 12.5 mg/ml and 6.25 mg/ml. Generally, ethanolic and aqueous extracts were the most effective solvents against all the test organisms. The Minimum Inhibitory Concentration (MIC) of the ethanol, aqueous and petroleum ether extract for E. coli were 12.5 mg/ml in all cases. For Salmonella Typhi, the MIC for the aqueous and petroleum ether extracts were 12.5 mg/ml respectively while it was 25 mg/ml for the ethanolic extract. In addition, the MIC for Shigella dysenteriae was 12.5 mg/ml for both the aqueous and ethanolic extracts while it was 25 mg/ml for the petroleum ether extract. The phytochemical screening revealed the presence of flavonoids, alkaloids, tannins, carbohydrates, steroids and terpenes, cardiac glycosides and saponins. However, the plant does not contain anthraquinones. Antidiarrhoeal activity of the ethanolic plant extract demonstrated better activity of at 400 mg/ml than 200 mg/ml which is indicative of the fact that the activity of the plant is dose dependent. Therefore, it can be concluded that the Dichrostachys cinerea has ap- preciable antibacterial and antidiarrhoeal activities.
Keywords :
Department of Community ,Health, Plateau State College ,of Health Technology, Pankshin.
Cite This Article:
Dichrostacys cinera, Anti- bacterial, Antidiarrheal, Enteric, Castor oil.
Vol.I (3), Issue.I 211
Article No : 10001
Number of Downloads : 101
References :

Bryce, J., Boschi-Pinto, C., Shibuya, K. and Robert, E.B. (2005). WHO estimates  of the causes of death in children. Lancet, 365:1147-1152. Chess- brough, M. (2006). Medical laboratory manual for Tropical countries. Euther worth and coy Borough Green seven oaks kent 3:30-33, 196 – 198,232 – 234. Evans, J., Doyle,  J., Dolores, G. and Evans, T. (2007). Medical Microbiology, 4th Edition, Cambridge. Garner, P. (2002). Clinical...

More

Bryce, J., Boschi-Pinto, C., Shibuya, K. and Robert, E.B. (2005). WHO estimates  of the causes of death in children. Lancet, 365:1147-1152.
Chess- brough, M. (2006). Medical laboratory manual for Tropical countries. Euther worth and coy Borough Green seven oaks kent 3:30-33, 196 – 198,232 – 234.
Evans, J., Doyle,  J., Dolores, G. and Evans, T. (2007). Medical Microbiology, 4th Edition, Cambridge.
Garner, P. (2002). Clinical evidence of infectious Disease; Aetiology of Diarrhoea. British Medical Journal, liver pool, Uk. 450 – 451.
Handal, J.T., Tooley, P. and Thompson, W. (2003). Survey of plants for antidiarrheal  activities. Indian Journal of Applied Re- search, 1(4): 223-236.
Jawetz, E., Melnick, J.L., and Adel berg, E.A. (2005). Review of medical microbiology. (23rd edition). Lange medical publications.
Les Altos. Junaid, S.A., Olabode, A.O., Onwuliri, F.C., Okwori,  A.E.J. and Agina,  S.E. (2006). The antimicrobial  properties  Ocimum gratissimum  extracts on some selected bacterial gastrol intestinal  isolates. Africa Journal of Biotechnology, 5: 2315-2321.
Kosek, K.M., Bern, C. and Guerant, R.L. (2003). The global burden of dirrheal diseases, as estimsted  from studies published between 1992-2000. Bulletin of World Health Organization, 81:197-204.
Mishira, et al. (2009). Antibacterial and analgesic effect of the leave of Dichrostachy cinerea, Royal College of Pharmacy and health science, UK.
NNDIC (2003). A service of the National Institute of Diabetics and Digestive and Kidney Diseases. National Institute of Health under U.S. Department  of Health and Human Services, NIH Publication no 04-2749, 1-6.
Okpekon, T., Yolou, , Gleye, C., Robbot, F., Loisean, P., Bones, C., Grellier,  P., Frappier, F., Laurens, A. and Hocguet, M.R. (2004). Antiparasitic Activities of medicinal plants used in Ivory Coast. East and central African Journal of Pharmaceutical  sciences, 90 (1):91 – 97.
Rukangira, E. (2004). Antibacterial activities of ethanolic extract of Dichrostacys cinera on some pathogens and uses in the treatment of diseases. Indian Journal of Medicine and Plant Sciences, 2(4): 234-238.
Sofowora, A. (1993), Medical plants and traditional medicine in Africa. Journal of Ethnopharmacology. 38(2–3):197–208.
Swetha, Venna, C. and Poosa, I.R. (2013). Phytochemical and antimicrobial evaluation of Dichrostachys cinerea. International  Research Journal of Pharmacy, 6(12):123-140.
Trinch, C. and Prabhakar, K. (2007).  Diarrheal diseases in the elderly. Clinics in Geri- atrics Medicine, 23:833-856.

...

Less