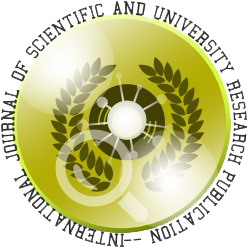 Bio Control Potential of Rice Endophyte Fusarium oxysporum Against Rice Sheath Blight Pathogen Rhizoctonia solani
Authore(s) : Divya RAju K Asok and Jisha MS || Corresponding author: Jisha MSAssociate ProfessorSchool of BiosciencesMahatma Gandhi UniversityIndia.
Volume : (13), Issue : 205, July - 2018
Abstract :

Discovering novel and effective microbial strains for increasing plant productivity; by enhancing the availability of utilizable minerals and by inhibiting an array of bacterial and fungal pathogens to plant is innovative approach in sustainable agriculture. There is particular interest in growing crops with little or no dependence on chemical pesticides and placing considerable weight on biological control. Fungal endophytes are a group of microorganisms associated with plants and have attracted a great interest to botanist, microbiologist and ecologist. In this study endophytic fungi were isolated from rice and were evaluated for their antagonism against Rhizoctonia solani, an important rice pathogen causing Sheath Blight disease in rice.
Keywords :
Endophytic microorganisms; Graminaceous crops; Oryza sativa; Fungal pathogens; Phytochemistry; Antioxidant agents.
Cite This Article:
Fusarium oxysporum Against Rice Sheath
Vol.I (13), Issue.I 205
Article No : 10018
Number of Downloads : 108
References :

Strobel GA (2002) Microbial gifts from rain forests. Can J Plant Pathol 24: 14-24. Sturz AV, Nowak J (2000) Endophytic communities of rhizobacteria and the strategies required to create yield enhancing associations with crops. Appl. Soil Ecol 15: 183-190. Saikkonen K, Faeth SH, Helander M, Sullivan TJ (1998) Fungal endophytes: a continuum of interactions with host plants. Ann Rev Ecol 29: 319-343. Pelaez F, Collado J, Arenal F...

More