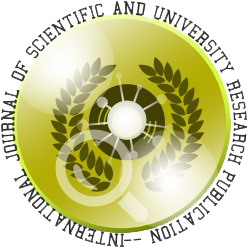 A STUDY ON CUSTOMER RELATIONSHIP MANAGEMENT AT LAKSHMI FORD, THANJAVUR
Authore(s) : JONATHAN JOB || Final year MBAPeriyar Maniammai Universityanjavur.
Volume : (3), Issue : 211, January - 2019
Abstract :

is paper is a study on the efficiency of post sales activity at Lakshmi Ford, anjavur. is study aims at finding various aspects of the post sales service provided and suggest the organization findings, which they could improve furthermore. is is a descriptive research which is used to describe characteristics of a population or phenomenon being studied. It addresses the "what" question (what are the characteristics of the population or situation being studied?). is study contains specific recommendations for managers to improve their post-sales service. 84 samples were chosen by Convenient Sampling method for this study and the data were analysed through Simple Percentage Analysis and Chi-Square Test.
Keywords :
Post Sales Activity, CRM, Ford, anjavur.
Cite This Article:
CUSTOMER RELATIONSHIP MANAGEMENT AT LAKSHMI FORD, THANJAVUR
Vol.I (3), Issue.I 211
Article No : 10035
Number of Downloads : 104
References :
http://link.springer.com/article/10.1007/s10551-012-1470-8 | http://www.abstract.xlibx.com/a-other/129238-1-managing-after-sales-services- strategies-and-interfirmrelation.php.