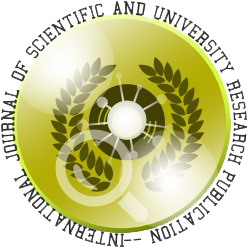 Exploratory Study on Factors Associated with Stigmatisation of People Living With HIV/AIDS in Botswana
Authore(s) : OLAOMI J. O. || Department of StatisticsUniversity of South Africa; Email:olaomjo@unisa.ac.za.
Volume : (13), Issue : 205, January - 2019
Abstract :
Antiretroviral therapy has effectively changed Acquired Immunodeficiency Syndrome (AIDS) from a terminal to a manageable chronic illness. However, People Living with HIV/AIDS (PLWHA) still contend with stigmatisation, hostility and gossip which take their toll on their health and psychological well-being. This paper explores the factors responsible for stigmatisation of PLWHA. The 2008 Botswana Aids Impact Survey III (BAIS III) data was used to assess the attitudes of people to HIV/AIDS patients in Botswana using the generalized additive model. The model was used to simultaneously measure the fixed and nonlinear effects. The fixed effects of categorical covariates were modelled using the diffuse prior while P-spline  with  second-order  random  walk  was  considered  for  the  nonlinear  effect  of continuous variable. The Binomial distribution was used to handle the dichotomous nature of the three dependent variables considered. The dependent variables considered are family member, teacher and a shopkeeper/food seller who live with HIV/AIDS. This study has shown that people who live in urban areas, educated, married/living together with partner or even divorced and those whose family members are sick with HIV or AIDS are more likely to show discriminatory attitude them.
Keywords :
Bayesian inference, binomial, Botswana, generalized additive model, HIV/AIDS.
Cite This Article:
Study on Factors Associated with Stigmatisation of People Living
Vol.I (13), Issue.I 205
Article No : 10030
Number of Downloads : 104
References :

Akande, A.W. (2010).   A Possible Role of Stigma and Fears in HIV Infection. Journal of International Development, 22(5), 556-572. Alaba, O. O., Olaomi, J. O. and  Olubusoye,  O. E.(2015). Spatial Pattern of Unmet Need of Family Planning in Nigeria. South African Family Practice Journal, 57(5), 306 - 312. Bassey,  E.  A.,  Abasiubong,  F.,  Ekanem,  U.  And  Abasiatai,  A.M.  (2007).  Attitude  of Antenatal Attendees...

More

Akande, A.W. (2010).   A Possible Role of Stigma and Fears in HIV Infection. Journal of International Development, 22(5), 556-572.
Alaba, O. O., Olaomi, J. O. and  Olubusoye,  O. E.(2015). Spatial Pattern of Unmet Need of Family Planning in Nigeria. South African Family Practice Journal, 57(5), 306 - 312.
Bassey,  E.  A.,  Abasiubong,  F.,  Ekanem,  U.  And  Abasiatai,  A.M.  (2007).  Attitude  of Antenatal Attendees to People Living With HIV/AIDS in Uyo, South-South Nigeria. African Health Science, 7(4), 239 – 243.
Belitz,  C.,  Brezger,  A.,  Kneib,  T.,  Lang,  S.  Umlauf,  N.  (2012).  BayesX  Software  for Bayesian      Inference in    Structured  Additive Regression  Models,  2012.  Retrieved  from www.stat.uni-muenchen.de/~bayesx [cited September 2015].
Cao, H., He, N., Jiang, Q., Yang, M., Liu, Z., Gao, M., Ding, P., Chen, L., and Detels, R. (2014). Stigma Against HIV- Infected Persons Among Migrant Women Living in Shanghai, China. Aids Education Preview, 22(5), 445 – 454.
Chabrol,  F.  (2014).  Biomedicine,  Public  Health  and  Citizenship  in  the  Advent  of Antiretrovirals in   Botswana. Developing World Bioethnics, 14(2), 75 – 82.
Chah, J.M., Igbokwe, E.M. and Agwu, A.E. (2010). Attitude Towards HIV/AIDS Among Private  Plantation  Workers  in  the  Southwest  Region  of  Cameroon.  Journal  of  Human Ecology 36(3): 185 – 190.
Famoroti, T.O., Fernandes, L. and Chima, S.C. (2013). Stigmatisation of People Living With HIV/AIDS by Health Care Workers at a Tertiary Hospital in Kwazulu-Natal, South Africa: A cross-sectional descriptive study. BMC Medical Ethics,14(suppl 1);S6.
Farahani, M., Vable, A., Lebelonyane, R., et. al. (2014). Outcomes of the Botswana national HIV/AIDS treatment   programme from 2002 to 2010: a longitudinal analysis. Lancet,  2, 44-50.
Geiselhart, K. (2010). Stigma and Discrimination – An Integrative Perspective. Erdkunde,64(1), 33 45.
Kang'ethe, S.M. (2010). Validating that Palliative Care Giving is a Stressful Occupation: The Case of the Kanye Community Home-based Care Programme, Botswana. South African Family Practice, 52(6), 548-556.
Kip, E., Ehlers, V.J., Phil, D.L., van der Wal, D.M., Phil, D.L (2009). Patients' Adherence to Anti-Retroviral Therapy in Botswana. Journal of Nursing Scholarship, 41(2), 149 – 157.
Letamo, G. (2004). HIV/AIDS-related Stigma and Discrimination among Adolescents in Botswana. Union for African Population Studies, 19 (2), 191–204.
Midtbo, V., Shirima, V., Skovdal, M. and Daniel, M. (2012). How Disclosure and Antiretroviral Therapy Help HIV-infected Adolescents in sub-Saharan Africa cope with Stigma. African Journal of AIDS Research, 11(3), 261 -271.
Nthomang, K., Phaladze, N., Oagile, N., Ngwenya, B., Seboni, N., Gobotswang, K. et. al. (2009).  People Living With HIV and AIDS on the Brink: Stigma – A Complex Sociocultural Impediment in the Fight Against HIV and AIDS in Botswana. Health Care for Women International, 30(3), 233 -234
Nyblade, L., MacQuarrie, K., Kwesigabo, G., Jain, A., Kajula, L., Philip, F. et al. (2008). Moving  Forward:  Tackling  Stigma  in  a  Tanzanian  Community.  Population  Council, Horizons, New York.
Ogden, J. and Nyblade, L. (2006). Common at its core: HIV-related stigma. www.icrw.org. Retrieved 11th November, 2014.
Stoneburner, R., Korenromp, E., Lazenby, M., Tassie. J., Letebele, J.,Motlapele, D. et al. (2014). Using Health Surveillance Systems Data to Assess the Impact of AIDS and Antiretroviral Treatment on Adult Morbidity and Mortality in Botswana. Plos One, 9(7), e100431.
Stuber, J. and Schlesinger, M.   (2006). Sources of Stigma for Means-tested Government Programs. Social Science & Medicine, 63, 933–945.
Syuhada, A. R., Nur and Wong, L. P. (2011). Stigmatisation and Discrimination towards People Living with or Affected by HIV/AIDS by the General Public in Malaysia. South Asian Journal of Tropical Medical Public Health, 42(5), 1119 – 1129.
Teague, A.(2007). HIV: Now a Manageable Chronic Disease. Pharmacy Times. March 1,2007.
Thupayagale-Tshweneagae,  G.  (2010).  Behaviours  used  by  HIV-positive  Adolescents  to Prevent Stigmatisation in Botswana. International Nursing Review, 57, 260-264.
UNAIDS Report 2008.  www.unaids.org. Retrieved November 11th, 2014.
Yebei, V.N., Fortenberry, J.D. and Ayuku, D.O. (2008). Felt Stigma among People Living with HIV/AIDS in Rural and Urban Kenya. African Health Sciences, 8(2), 97- 102.
Syuhada AR Nur and Wong, L.P. Stigmatisation and Discrimination towards People Living with or Affected by HIV/AIDS by the General Public in Malaysia. South Asian Journal of Tropical Medical Public Health, 2011, 42(5): 1119 – 1129.

...

Less