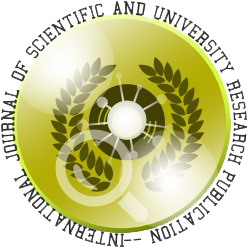 Looking in the mirror: The cultural experiences of patients diagnosed with schizophrenia
Authore(s) : Basson W.J || ProfessorDepartment of PsychologySefako Makgatho Health Sciences UniversitySouth Africa. Email: wilna.basson@smu.ac.za.
Volume : (13), Issue : 205, January - 2019
Abstract :
Schizophrenia  is  a  debilitating  mental illness  that  affects  people from  all  walks  of life. Individuals attach meaning to their illness based on their cultural point of view. For some traditional black South Africans, causes of ill health are ascribed to culturally laden inferences. This study aimed to explore how black South Africans diagnosed with schizophrenia experience their illness from their cultural point of view. The study followed a hermeneutic phenomenological approach. In-depth interviews were conducted with three patients diagnosed with schizophrenia and on medication for their illness. Their stories were analysed using thematic content analysis. Five themes emerged during the study. Theme 1 related to "Naming Things". The name given to their illness significantly affected the meanings that were attached to the illness. Theme 2 referred to "Being Without". Losses as well as gains became apparent. Participants had lost their roles, independence and intimacy; however, they developed other coping strategies and some relationships became stronger. Theme 3 pertained to "Connections and Disconnections". While participants were connected to their families and their community, they also felt disconnected due to the stigma perceived. Theme 4 was the theme of "Being Spiritual". Spirituality played a vital role in how participants attached meaning to their illness, and it helped them to cope with challenges. Theme 5 was "Rainbow after the Rain". The negative connotation of having a mental illness turned into personal, interpersonal and spiritual growth. The devastating illness became a gift to all participants; they demonstrated immense levels of resilience and they found their own way of being and relating. Culture played a crucial role during the initial stages of the illness; all participants sought spiritual help and it determined the meanings attached to the illness. This study proposes a need for mental health workers to explore the challenges that hamper openness within families and communities in order to lessen the perceived stigma experienced  by  the  patients,  and  to  acknowledge  and  encourage  different  coping  and meaning-making structures, such as spirituality.
Keywords :
Schizophrenia, patients, experiences, culture, Black South African.
Cite This Article:
The cultural experiences of patients diagnosed
Vol.I (13), Issue.I 205
Article No : 10029
Number of Downloads : 106
References :

Adeolu, A. (2010). African traditional religion [Internet]. 2006 [updated 2010 Feb 10]; cited 2013 Jan 29]. Available from:  http://www.tigweb.org/org/youth- media/panorama/article.html. Ajjawi, R. & Higgs, J. (2007). Using hermeneutic phenomenology to investigate how experienced practitioners learn to communicate clinical reasoning. The Qualitative Report, 12(4), 612-638. Arnold, S.E. & Roux, L. (2001). Challenges, status,...

More

Adeolu, A. (2010). African traditional religion [Internet]. 2006 [updated 2010 Feb 10]; cited 2013 Jan 29]. Available from:  http://www.tigweb.org/org/youth- media/panorama/article.html.
Ajjawi, R. & Higgs, J. (2007). Using hermeneutic phenomenology to investigate how experienced practitioners learn to communicate clinical reasoning. The Qualitative Report, 12(4), 612-638.
Arnold, S.E. & Roux, L. (2001). Challenges, status, and opportunities for studying developmental neuropathology in adult schizophrenia. Schizophrenia Bulletin, 27(3), 395-416.
Brady, N. & McCain, G. (2004). Living with schizophrenia: a family perspective. The online Journal of Nursing Issues, 10 (1), 7.
Breakwell, G.M., Smith, J.A. & Wright, D.B. (2012). Research Methods in Psychology. (4th ed), California, Sage Publications Ltd.
Castillo,R.J. (1997). Culture and Mental Illness: A Client-centred Approach. Belmont: Thomson Brooks/Cole Publishing Co.
Cross S. (2010). Mediating Madness: Mental Distress and Cultural Representation. New York: Palgrave Macmillan.
Englander, M. (2012). The interview: data collection in descriptive phenomenological human scientific research. Journal of Phenomenological Psychology, 43(1), 13-35.
Estroff, S.E. (2004). Self-identity and subjective experiences of schizophrenia: in search of the subject. Schizophrenia Bulletin, 15, 189-196.
Fersch, B. (2013). Meaning: lost, found or "made" in translation? A hermeneutic approach to cross-language interview research. Qualitative Studies, 4(2), 86-99.
George, B. & Klijn, A. (2013). A modern name for schizophrenia would diminish self-stigma .Psychological Medicine [Internet]. 2013 [cited 2014 May 5];43(7):1555-1557. Available at  http://doi:10.1017/S0033291713000895.
Huguelet, P. & Koenig, H.G.(2009). Religion and Spirituality in Psychiatry. New York: Cambridge University Press.
Johnson, A. (2012). I should be included in the census. Schizophrenia Bulletin; 38 (2), 207-208.
Landridge, D. (2008). Phenomenology and critical social psychology: directions and debates in theory and research. Social and Personality Compass, 2(3), 1126-1142.
Laverty, S.M. (2003). Hermeneutic phenomenology and phenomenology: a comparison of historical methodological considerations. International Journal of Qualitative Methods [Internet]. 2003 [cited 2013 Sep 12];2(3). Available at http://www.ualberta.ca/  iqm/backissues/2_3final pdf/Laverty.pdf.
Lee. S., Lee, M.T.Y., Chiu, M.Y.L. & Kleinman, A. (2005). Experiences of social stigma by people with schizophrenia in Hong Kong. British Journal of Psychiatry, 186, 153-157.
Lehman, D.R., Chiu, C. & Schaller, M. (2004). Psychology and Culture. Annual Review of Psychology, 55, 689–714.
McCann, T.V. & Clark, E. (2004). Embodiment of severe enduring mental illness: finding meaning in schizophrenia. Issues in Mental Health Nursing, 25, 783-798. http://schizophreniabulletin.oxfordjournals.org/
Michaels, P.J., Lopez, M., Rusch, N. & Corrigan, P.W. (2012). Constructs and concepts comprising stigma of mental illness. Psychology, Society and Education, 4(2), 183-194.
Mkhize, N. (2012). Culture, mental health and indigenous mental health practices. Paper presented at the National Mental Health summit, Gauteng, South Africa.
Mkize, D.L. (1998). Amafufunyana-is it a culture-bound syndrome? South African Medical Journal, 88, 329-331.
Morse, J.M., Barrett, M., Mayan, M., Olson. K, & Spier. J. (2002). Verification strategies for establishing reliability and validity in qualitative research. International Journal of Qualitative Research Methods [Internet]. 2002 [Cited 2014 May 23];1(2):1-19 Available at http://www.ualberta.ca/
Mosotho. L,, Louw, D. & Calitz, F.J. (2011). Schizophrenia among Sesotho speakers in South Africa. African Journal of  Psychiatry, Mar;14(1) 50-55.
Motlana, L.M., Sokudela, B., Moraka, T., Roos, J.L. & Snyman, M. (2004). In touch with reality. South African Psychiatry Review, 7, 26-29.
Mufamadi, J. & Sodi, T. (2010). Notions of mental illness by VhaVhenda traditional healers in Limpopo Province, South Africa. Indilinga-Journal of Indigenous Knowledge Systems, 9(2), 253-264.
Phelan, J.C., Broment, E.J. & Link, B.G. (1998). Psychiatric illness and family stigma. Schizophrenia Bulletin, 24(1), 115-126.
Rice, K.A. (1980). Geertz and Culture. University of Michigan Press: University Microfilms   International.
Ruiz, P., Sadock, V.A. & Sadock, B. (2014). Synopiss of Psychiatry: Behavioural Science/Clinical Psychiatry (9th ed.). STM Publishers: NY .
Sadock, B.J. & Sadock, V.A. (2014). Kaplan and Sadock's Synopsis of Psychiatry: Behavioural Sciences, Clinical Psychiatry (9th ed.). Philadelphia: Lippincott Williamns & Wilkins.
Schulze, B. & Angermeyer, M.C. (2003). Subjective experiences of stigma: a focus group study of schizophrenia patients, their relatives and mental health professionals. Social Science and Medicine, 56(2), 299-312.
Sorsdhal, K.R., Flisher, A.J., Wilson, Z. & Stein, D.J. (2010). Explanatory models of mental disorders and treatment practices among traditional healers in Mpumalanga, South Africa. South African Journal of Psychiatry, 13, 284-290.
Swartz, L. (1998). Culture and Mental Health: A South African View. Cape Town: Oxford University Press.
TerreBlanche, M. & Kelly, K. (2009). Interpretive methods. In: Terre Blanche M, Durrheim K, editors. Research in practice: applied methods for the Social Sciences. University of Cape Town. Cape Town Press.
Van Manen, M. (2006). Writing qualitatively, or the demands of writing. Qualitative Health Research, 16(5), 713-722.
Wanamaker, A.C. (1997). Jesus the ancestor: reading the story of Jesus from an African perspective. Scriptura, 62(3), 281-298.
Watson, A.M., Corrigan, P., Larson, J.E. & Sells, M. (2007). Self-stigma in people with mental illness. Schizophrenia Bulletin [Internet]. 2007 [cited 2014 Jul 5];3(6):1312-1318. Available from http://schizophreniabulletin.oxfordjournals.org/
White, P. (2015). 'The concept of diseases and health care in African traditional religion in Ghana', HTS Teologiese Studies/Theological Studies 71(3), Art. #2762, 7 pages. http://dx.doi.org/10.4102/hts.v71i3.276.
Whitehead, L. (2004). Enhancing the quality of hermeneutic research: decision trail. Journal of Advanced Nursing, 45(5), 512-518.

...

Less