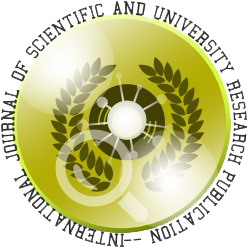 The effects of supervisors' formative feedback: Reflections of students in a postgraduate programme
Authore(s) : Lungi Sosibo || Associate ProfessorFaculty of EducationFurther Education & TrainingCape Penin- sula University of TechnologyCape Town. E-mail: SosiboL@cput.ac.za.
Volume : (13), Issue : 205, January - 2019
Abstract :
Traditionally, higher education produced knowledge for the social good, until globalisation shifted its role to the production of economically productive knowledge. This shift placed immense pressure on universities to increase the number of research-active staff and to equip students with skills to produce commodified knowledge. Consequently, supervisors' feedback became central to improving research outputs in the global economy. This study investigated the effects of supervisors' formative feedback on postgraduate students enrolled in a University of Technology in South Africa. Data were collected through questionnaires and analysed thematically. The social constructivist theory informed this study. Students perceived formative feedback to have positive and negative effects. These results have implications for the manner in which supervisors provide feedback to their students.
Keywords :
Formative feedback, effects, economy, commodity, supervisor, knowledge.
Cite This Article:
Reflections of students in a postgraduate programme
Vol.I (13), Issue.I 205
Article No : 10035
Number of Downloads : 103
References :

Ackeman, P. L. (1992). Predicting individual differences in complex skill acquisition: Dynamics of ability determinants. Journal of Applied Psychology, 77(5), 598-614. Albertyn, R. M., Kapp, C. A. and Bitzer, E. M. (2008). Profiling exiting postgraduate students' performance and experiences. South African Journal of Higher Education, 22(4), 749-772. Black, P. and William, D. (2003). In praise of educational research.British...

More

Ackeman, P. L. (1992). Predicting individual differences in complex skill acquisition: Dynamics of ability determinants. Journal of Applied Psychology, 77(5), 598-614.
Albertyn, R. M., Kapp, C. A. and Bitzer, E. M. (2008). Profiling exiting postgraduate students' performance and experiences. South African Journal of Higher Education, 22(4), 749-772.
Black, P. and William, D. (2003). In praise of educational research.British Educational Research Journal, 29(5), 623-637.
Chudleigh, Anne  M.  and  Gibson-Gates,  Cathi.  (2010).  Supporting teacher candidates at-risk in field experiences: Organizational and program responsiveness. In T. Falkenberg and H. Smits, (eds.), Field Experiences in the Context of Reform of Canadian Teacher Education Programs (101-116). Winnipeg, MB: Faculty of Education of the University of Manitoba.
Cohen, L., Manion, L. and Morrison, K. (2007). Research Methods in Education. London: Routledge.
de Lange, N., Pillay, G. and Chikoko, V. (2011). Doctoral learning: A case for a cohort model of supervision and support. South African Journal of Education, 31, 15-30.
East, M., Bitchener, J. and Basturkmen, H. (2012). What constitutes effective feedback to postgraduate research students? The students' perspective. Journal of University Teaching and Learning Practice, 9(2), 1-16.
Friedman, T. L. (2006). The World is Flat: A Brief History of the Twenty-first Century. New York: Farrar, Straus and Giroux.
Harris, M. J. (2006). Three steps to teaching abstract and critique writing. International Journal of Teaching and Learning in Higher Education, 17(2), 136-146.
Heath, T. (2002). A quantitative analysis of PhD students' views of supervision.  Higher  Education  Research  and  Development,21(1), 41-61.
Hyland, K. (2009). Academic Discourse. London: Continuum.
Ilgen, D. R. and Davis, C. A. (2000). Bearing bad news: Reactions to negative performance feedback. Applied Psychology: An International Review, 49(3), 550-565.
Jones, H., Hoppitt, L., James, H., Prendergast, J., Rutherford, S., Yeoman, K. and Young, M. (2012). Exploring students' initial reactions to the feedback they receive on coursework. Bioscience Education, 20, 4-21.
Kamper, G. D. (2004). Reflections on educational research in South Africa. South African Journal of Education, 24(3), 233-238. Kluger, A. N. and De Nisi, A. (1996). Effects of feedback intervention on  performance: A historical  review,  a  meta-analysis,  and  a preliminary   Feedback   Intervention   Theory.   Psychological Bulletin, 119(2), 254-284.
Kraak, A. (2000). Changing modes: A brief overview of the Mode 2  knowledge  debate  and  its  impact  on  South African  policy formulation. In Andre Kraak (Ed.), Changing Modes: New Knowledge Production and its Implications for Higher Education in South Africa. (9-33). Pretoria: HSRC Press.
Lee, A.M. (2007). Developing effective supervisors: concepts of research supervision. South African Journal of Higher Education,21(4), 680-693.
Lipnevich, A. A. (2007). Response to assessment feedback: The effects of grades, praise, and source. Dissertation in partial fulfillment of a Doctoral Degree. Ann Arbor, MI: UMI Press.
Mathers, C., Oliva, M. and Laine, S. W. (2008). Improving instruction through effective teacher evaluation: Options for states and districts. Research and Policy Brief. Washington, D.C.: National Comprehensive Center for Teacher Quality.
Naidoo, R. (2003). Repositioning higher education as a global commodity: Opportunities and challenges for future sociology of education work. British Journal of Sociology of Education, 24(2),249-259.
Naidoo, R.. (1998). Levelling of playing the field? The politics of access to university education in South Africa. Cambridge Journal of Education, 28(3), 369-383.
Naidoo, R. and Jamieson, I. (2005). Knowledge in the marketplace: The global commodification of teaching and learning in higher education. In P. Ninnes and M. Hellstén (eds.), Internationalizing Higher Education: Critical Explorations of Pedagogy and Policy (37-51). Dordrecht: Springer.National Research Foundation. 2013. Evaluation and rating of individual researchers.http://www.nrf.ac.za/projects.php/ pid=129. Accessed on 20 February 2014.
Ninnes, P. and Hellstén, M. (2005). Introduction: Critical engagements with the internationalization of higher education. In P. Ninnes and M. Hellstén (eds.), Internationalizing Higher Education: Critical Explorations of Pedagogy and Policy (18). Dordrecht: Springer.
Rye, S. A. (2009). Negotiating the symbolic power of information and communication technologies (ICT): The spread of internet- supported distance education. Information Technology for Development, 15(1), 17-31.
Sambrook, S., Stewart, J. and Roberts, C. (2008). Doctoral supervision: A view from above, below and the middle. Journal of Further Education, 32(1), 71-84.
Taras,  M.  (2005).  Assessment-  summative  and  formative:  Some theoretical reflections. British Journal of Education, 53(4), 466-478.
Taylor, John. (2002). Changes in teaching and learning in the period to 2005: The case of postgraduate education in the UK. Journal of Higher Education, 24(1), 53-73.
Vygotsky, L.S. (1987). The Collected Works of L.S. Vygotsky. New York: Plenum.
Wadesango, N. and Machingambi, S. (2011). Post graduate students' experiences with research supervisors. Journal of Sociology and Social Anthropology, 2(1), 31-37.
Wang, T. and Li, L. (2009). International research students' experience of feedback. Proceedings of the 32nd Higher Education Research Development Society of Australia (HERDSA) Conference, 6-9 July 2009, Darwin, Australia (444-452).
Winberg, C. (2006). Undisciplining knowledge production: Development driven higher education in South Africa. Higher Education, 51, 159-172.
Wright, M., Filatotchev, I., Hoskisson, R. E. and Peng, M. W. (2005).Strategy  research  in  emerging  economies:  Challenging  the conventional wisdom. Journal of Management Studies, 42(1),1-33.
Yin, R.K. (2009). Case Study Research: Design and Methods  (4th ed.).Thousand Oaks, CA: Sage.
Young, P. (2000). 'I might as well give up': Self-esteem and mature students' feelings about feedback on assignments. Journal of Further and Higher Education, 24(3), 409-418.
Yusuf, I. A. (2011). Investigating the effects of the supervisor's feedback on international Masters students' dissertation writing outcomes in the UK. PhD thesis, The University of Warwick.

...

Less