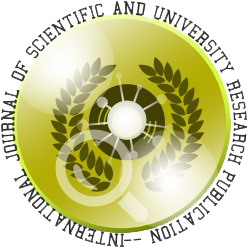 Novel Coronavirus: A Global Catastrophe and Boutade
Authore(s) : Rajput Mansi & Sharma Rajesh || School of Medical and Allied Sciences,
Volume : (9), Issue : (3), March - 2020
Abstract :

Corona viruses are the pathogens found in animal and humans. They are RNA viruseswith enveloped positive sense, which are attributed by the club-like spikes projecting form their surfacehaving an exceptionally large RNA genome and a distinctive replication strategy. Many features like biology, pathogenesis and disease of the virus that is exhibited so tremendously in the world wide SAR's epidemic are being recognizable and amicable to the core of researchers and analyst who have worked with this captivating and enthralling class of virus.The understanding of the revamption of the virus to new environment,trans species infection and exposure of new disease have been made easy by the evolution in biology of corona viruses. In Wuhan, a city in the Hubei province of china, agglomeration of pneumonia cases were reported and novel corona virus was recognized for the effectuation,at the end of 2019.The virus proliferated briskly, resulting in an epidemic throughout the china as well as in other countries.WHO assigned the disease COVID-19, in February 2020, which means coronavirus disease. And the virus causing COVID-19 is ordained as ACUTE RESPIRATORY SYNDROME CORONAVIRUS 2 (SARS-COV-2). The disease escalated from china to 26 other countries, as of Feb 18 2020.Replication of phylogenetic material takes place on zoonotic origin that is why person-to-person transmission is responsible for alacritous spread of this virus.Various studies offer ancillary enlightenment into person-to-person transmission.Although the primary gap due to the lack of fundamental data concerning the transmissibility between humans plus the level of exposure to a confirmed case at which dissemination is more likely to occur and the transmissibility between humans remains.In India the beginning of the coronavirus pandemic started as on 30 January 2020 in a student who had returned from Wuhan university to Kerala.This was the first case in India for 2019-2020.The ministry of health and family welfare has established a whole of 428 cases and 9deaths in the country as of 23rd March 2020.
Keywords :
Keywords: SARS, COVID-19, PHYLOGENIC, ZOONOTIC ORIGIN
Cite This Article:
Novel Coronavirus: A Global Catastrophe and Boutade
Vol.I (9), Issue.I (3)
Article No : 12245
Number of Downloads : 102