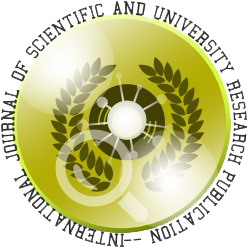 COVID-19 Pandemic: Lessons from Peak Years of Influenza & Suicide Deaths by Age in Ten Western Countries 1979-2016: An Alert for Psychiatry and Children's Services
Authore(s) : Colin Pritchard || Faculty of Health & Social Sciences,
Volume : (13), Issue : (11), September - 2020
Abstract :
Background: The IMF fears the COVID-19 pandemic will create an economic down-turn matching the Great Depression. More recent recessions have led to physical and mental health problems including suicide deaths of young adults (15 - 34). We aim to identify risk patterns of mortality by age from influenza and suicide mortality in peak years from 1979 to 2016 to see if there are lessons to be learned for policy makers and psychiatric services. Method: Using WHO mortality data for 1979-2016 peak years of influenza deaths and suicides are identified in ten Western countries. Death rates per million in each age-band are calculated for both sexes and the percentage of the total deaths accruing in each of five age-bands for influenza and suicides. Ratios of influenza to suicide by age in regard to rates and percentages of deaths indicate differential risk mortality and morbidity patterns. Results: Of the ten country's average Influenza deaths, 95% occurred in people over 55, including 80% - 85% for the over 75's. Conversely it was 59% of suicides occurred in peoples aged <55 years. Young adults (15 - 34) influenza to suicide ratios were 1:12.1 and 35 - 54 years ratio 1:9.3. Discussion: IMF predicts major unemployment, which is likely to create mental health problems, including suicide as well as worsening child health outcomes linked to relative poverty. These wider inter-related factors should be considered by policy-makers and mental health services. The age patterns of risk of mortality point towards a cumulative summation of morbidity and mortality risks of the socio-economic consequences of the COVID pandemic.
Keywords :
COVID-19, Influenza Deaths Suicide, Socio-Economic Consequences
Cite This Article:
COVID-19 Pandemic: Lessons from Peak Years of Influenza & Suicide Deaths by Age in Ten Western Countries 1979-2016: An Alert for Psychiatry and Children's Services
Vol.I (13), Issue.I (11)
Article No : 11236
Number of Downloads : 101
References :

Holmes, E.A., O'Connor, R.C., Perry, V.H., Tracey, I. and Wessely, S. (2020) Multidisciplinary Research Priorities for the COVID-19 Pandemic: A Call for Action for Mental Health Science. Yip, P.S., Cheung, Y.T., Chau, P.H. and Law, Y.W. (2010) The Impact of Epidemic Outbreak: The Case of Severe Acute Respiratory Syndrome (SARS) and Suicide among Older Adults in Hong Kong. Crisis, 31, 86-92. https://doi.org/10.1027/0227-5910/a000015 ...

More

Holmes, E.A., O'Connor, R.C., Perry, V.H., Tracey, I. and Wessely, S. (2020) Multidisciplinary Research Priorities for the COVID-19 Pandemic: A Call for Action for Mental Health Science.
Yip, P.S., Cheung, Y.T., Chau, P.H. and Law, Y.W. (2010) The Impact of Epidemic Outbreak: The Case of Severe Acute Respiratory Syndrome (SARS) and Suicide among Older Adults in Hong Kong. Crisis, 31, 86-92. https://doi.org/10.1027/0227-5910/a000015
Demirci, Ş., Konca, M., Yetim, B. and İlgün, G. (2020) Effect of Economic Crisis on Suicide Cases: An ARDL Bounds Testing Approach. International Journal of Social Psychiatry, 66, 34-40. https://doi.org/10.1177/0020764019879946
Brietzke, E., Magee, T., Freire, R.C.R., Gomes, F.A. and Milev, R. (2020) Three Insights on the Psychoneuroimmunology of Mood Disorders to be Taken from the COVID-19 Pandemic. Brain, Behavior, & Immunity—Health. https://doi.org/10.1016/j.bbih.2020.100076
Weise, J., Schomerus, G. and Speerforck, S. (2020) The SARS-CoV-2 Pandemic and an Attempted Suicide of a Patient with Delusional Disorder. Psychiatrische Praxis, 47, 218-220. https://doi.org/10.1055/a-1158-1745
Pritchard, C. (1992) Youth Suicide, Gender & Unemployment in the UK: A Comparison of Youth Suicide in the Other Countries of the European Community 1973-1988. British Journal Psychiatry, 160, 750-756. https://doi.org/10.1192/bjp.160.6.750
Norström, T. and Grönqvist, H. (2015) The Great Recession, Unemployment and Suicide. Journal of Epidemiology and Community Health, 69, 110-116. https://doi.org/10.1136/jech-2014-204602
Gunnell, D., Appleby, L., Arensman, E., Hawton, K., John, A., Kapur, N., Khan, M., O'Connor, R.C. and Pirkis, J. (2020) COVID-19 Suicide Prevention Research Collaboration. The Lancet Psychiatry, 7, 468-471.
Sher, L. (2020) The Impact of the COVID-19 Pandemic on Suicide Rates. QJM, 113, 707-712. https://doi.org/10.1093/qjmed/hcaa202
McIntyre, R.S. and Lee, Y. (2020) Projected Increases in Suicide in Canada as a Consequence of COVID-19. Psychiatry Research, 290, Article ID: 113104. https://doi.org/10.1016/j.psychres.2020.113104
Zhou, F., Yu, T., Du, R., Fan, G. and Liu, Y. (2020) Clinical Course and Risk Factors for Mortality of Adult Patients with COVID-19 in Wuhan, China: A Retrospective Study. The Lancet, 395, 1054-1062. https://doi.org/10.1016/S0140-6736(20)30566-3
WHO (2020) Annual Mortality Statistics. Who. healthinfo. mortality. Statistics. dpms.
IMF (2020) The Worst Economic Down-Turn since the Great Depression. https://www.imf.org/en/News/Articles/2020/03/23/p
Kposowa, A.J., Aly Ezzat, D. and Breault, K. (2019) New Findings on Gender: The Effects of Employment Status on Suicide. International Journal of Women's Health, 11, 569-575. https://doi.org/10.2147/IJWH.S216504
Näher, A.F., Rummel-Kluge, C. and Hegerl, U. (2020) Associations of Suicide Rates with Socioeconomic Status and Social Isolation: Findings From Longitudinal Register and Census Data. Frontiers in Psychiatry, 10, 898. https://doi.org/10.3389/fpsyt.2019.00898
Pritchard, C., Rosenorn-Lanng, E. and Williams, R. (2019) Child-Abuse-Related-Deaths, Child Mortality (0-4) & Income Inequality in America and Other Developed Nations 1989-91 v 2012-14: Speaking Truth to Power. Child Abuse Review, 28, 339-352. https://doi.org/10.1002/car.2599
World Bank (2018) Income Inequality. http://www.world.bank.income.inequality

...

Less