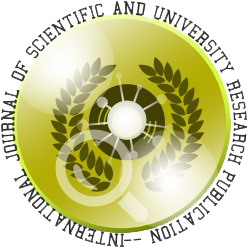 Development of Nano particles with Tetracycline with Interfacial Deposition of PHB (Poly-Β-Hydroxybutyrate)
Authore(s) : Mekala M || Assistant professorDepartment of MicrobiologySri Ramakrishna College of Arts and Science for WomenCoimbatore-641 014Tamil NaduIndia.
Volume : (3), Issue : 211, January - 2019
Abstract :
Different
soil samples were collected for the isolation of PHB producing bacillus sp present in and around Coimbatore area. As the preliminary analysis the screening, extraction and estimation of PHB, Physical optimization of PHB production, chemical characterization of extracted powder was done by FTIR analysis. Tetracycline is the drug of choice for per oral administration using nanoprecipitation technique. The production of Poly-β-hydroxybutyrate  (PHB) as nanoparticle containing Tetracycline, increase the stability of loaded drug. The extracted PHB created as nanoparticles and the nano encapsulation was done by PCL immobilization method with presence and absence of drug. The resulting nanoparticle is characterized by Scanning Electron Microscopy (SEM) analysis.
Keywords :
Extraction of PHB, Nano encapsulation, Nanoparticles, Interfacial deposition Tetracycline.
Cite This Article:
Development of PHB (Poly-Β-Hydroxybutyrate)
Vol.I (3), Issue.I 211
Article No : 10030
Number of Downloads : 103
References :

Allemann, E., Leroux, J.C and Gurny, R. (1998). Polymeric nano-micro particles for the oral delivery of peptides  and peptidomimetics.   Adv. Drug. Deliv. Rev.,34:171- 89. Barichello, J.M., Morishita, M., Takayama, K and Nagai, T. (1999). Encapsulation of hydrophilic and lipophilic drugs in PLGA nano particles by the nano precipitation method. Drug Dev. Ind. Pharm., 25:471- 6. Bindschaedler, C. and Toyomi, S. (1988)....

More

Allemann, E., Leroux, J.C and Gurny, R. (1998). Polymeric nano-micro particles for the oral delivery of peptides  and peptidomimetics.   Adv. Drug. Deliv. Rev.,34:171- 89.

Barichello, J.M., Morishita, M., Takayama, K and Nagai, T. (1999). Encapsulation of
hydrophilic and lipophilic drugs in PLGA nano particles by the nano precipitation method. Drug Dev. Ind. Pharm., 25:471- 6.
Bindschaedler, C. and Toyomi, S. (1988). Microencapsulation process and products. 35: 755-774.
Burdon, K.L., Stokes, J.C. and Kimbrough, C.E. (1942). Studies of the common aerobic sporeforming Bacilli. Journal of bacteriology, 44 (2):163-168.
Catarina, P. R., Ronald,  J.  and  Neufeld, A. (2006) Methods  for  preparation  of drugloaded polymeric nano particles 8-21.
Ekman, B. and  Sjfholm, I. (1978). Improved  stability of proteins  immobilized in micro particles  prepared  by modified emulsion polymerization  technique.  J Pharm Sci., 67:693 - 6.
Fessi, H., Puisieux, F., Devissaguet, J.P., Ammoury, N. and Benita, S. (1989) Nano capsule formation by interfacial deposition following solvent displacement. Int. J. Pharm., 55: R1- R4.
Hill, R. R. and Rendell, D. A. E. (1972). Interpretation of Infrared Spectra Heyden New York.
Hans, M.L. and Lowman,  A.M. (2002). Biodegradable nano  particles  for drug delivery and targeting. Current Opinion Solid State Mater Sci., 6: 319-27.
Hartman, T.L. (1940). The use of Sudan black B as a bacterial fat stain. Stain technology, 15:23-28.
Ishizaki, A. and Tanaka, K. (1991). Production of poly-β-hydroxybutyric acid from carbon dioxide by Alcaligenes eutrophus ATCC 17697. Journal of fermentation and bioengineering., 71: 254-257.
John, R.D. (1987). Applications of Absorption spectroscopy of Organic Compounds. Prentice Hall of India Pvt Ltd, New Delhi.

Li XQ, Tan, A., Voegtline, M., Bekele, S., Chen, C.S. and Aroian, R.V. 2008.Expression of Cry5B protein from Bacillus thuringiensis in plant roots confers resistance to root-knot nematode. Biol. Control., 47: 97-102.

Pillai, O. and Panchagnula, R. (2001). Polymers in drug delivery. Curr. Opin.Chem. Biol., 34: 447451.

Reis, C.P., Neufeld, R.J., Ribeiro, A.J and Viega, F. (2005). Insulinalginate  nanospheres: influence of calcium on polymer matrix properties. Proceedings of the 13th International Workshop on Bio encapsulation. Kingston, Ontario, Canada:QueenTs University.

Williamson,  D.H. and  Wilkinson,  J.F.  (1958). The isolation  and  estimation  of PHB inclusions  of Bacillus species. Journal  of General Microbiology.,  19: 198-209.

Xiong Y.C, Yao  Y.C, Zhan  X.C and  Chen,  G.Q. (2010). Application  of polyhydroxyalkanoates   Nanoparticles  as Intracellular  Sustained  Drug Release Vectors. Journal of Biomedicals Science., 21:127-140.
Yilmaz,  M.,  Soran,   H.  and   Beyatli, Y. (2005).  Determination  of  Poly-β- hydroxybutyrate  (PHB) production  by some Bacillus spp. World Journal of Microbiology and Biotechnology., 21: 565-566.

...

Less