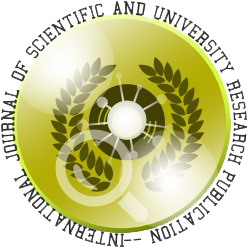 Effect of Demographic, Host and Preoperative Factors in Development of Surgical Site Infections: A Prospective Study at A Tertiary Care Hospital of Western Rajasthan
Authore(s) : Dr Himanshu Narula || 3rd year P.G residentDepartment of MicrobiologyDr. S.N. Medical CollegeShastri NagarJodhpur-342003RajasthanIndia.
Volume : (3), Issue : 211, January - 2019
Abstract :
Hospital acquired infections (HAI) have always been a nuisance among inpatients; with surgical site infections (SSI) being a major contributor to it. Multiple factors are said to increase the likelihood of surgical site infections. The present study was carried out to assess occurrence of SSI and; effect of various demographic, preoperative and host factors on frequency of SSI among patients operated in General Surgery department. A total of 609 patients were enrolled and were questioned using a prestructured questionnaire. Samples were collected from patients clinically suspected to have wound infection within 30 days of surgery, and sent for further processing. Among all clinically suspected patients 88 were confirmed to have SSI. Defining the SSI occurrence rate and assessment of factors that predispose to SSI will help to refresh the magnitude of problem in the given setup and accordingly introduce modifications in SSI surveillance.
Keywords :
Hospital acquired infections (HAI), Surgical site infections (SSI),surveillance
Cite This Article:
Effect of Surgical Site Infections: A Prospective Study at A Tertiary Care Hospital of Western Rajasthan
Vol.I (3), Issue.I 211
Article No : 10032
Number of Downloads : 104
References :

Dellinger E.P., Ehrenkranz N.J. "Surgical Infections" In Hospital infections. Bennett J.V. , Brachnan P.S. 4th ed. Lippincott Raven publishers, Phila- delphia: 1998; 571-86. | Ganguly.  PS, Khan Y. Malik A. Nosocomial infection and hospital procedures. Indian J. common Med. 2000; 990-1014. |Mahesh C B, Shivakumar S, Suresh BS, Chidanand SP, Vishwanath Y. A prospective study of surgical site infections in a teaching hospital. Journal of...

More

Dellinger E.P., Ehrenkranz N.J. "Surgical Infections" In Hospital infections. Bennett J.V. , Brachnan P.S. 4th ed. Lippincott Raven publishers, Phila- delphia: 1998; 571-86. | Ganguly.  PS, Khan Y. Malik A. Nosocomial infection and hospital procedures. Indian J. common Med. 2000; 990-1014. |Mahesh C B, Shivakumar S, Suresh BS, Chidanand SP, Vishwanath Y. A prospective study of surgical site infections in a teaching hospital. Journal of Clinical and Diagnostic Research 2010 October;4:3114-9. |  Narasinga Rao Bandaru et al. A Prospective Study on the Postoperative Wound Infections. Journal of Clinical and Diagnostic Research. 2012 September (Suppl), Vol-6(7): 1266-71. |  Cruse PJ, Foord R. The epidemiology of wound infection. A 10-year prospective study of 62,939 wounds. Surg Clin North Am. 1980 Feb;60(1):27–40. | Creamer E, Cunny RJ, Humphrey H. Smyth EG: Sixteen years surveillance of surgical sites in an Irish acute-care hospital. Infect Control Hosp Epidemiol; 2002; 23: 36-40. |  Shanthi J., Shankar T., Balagurunathan  R. The scenario of post operative wound infection from a Government hospital in South India. J. Microbiol. Biotech. Res., 2012, 2 (3):396-401 |  S. SAHU, J. SHERGILL, P. SACHAN, P. GUPTA. Superficial Incisional Surgical Site Infection In Elective Abdominal Surgeries - A Prospective Study. The Internet Journal of Surgery. 2009 Volume 26 Number 1. |  Ad Hoc Committee of the Committee on Trauma, Division of Medical Sciences, National Academy of Sciences - National Research Council: Postoperative wound infections: the influence of ultraviolet irradiation on the operating room and of various other factors. Ann Surg 1964; 160(suppl): 1-32. |  Shahane V., Bhawal S., Lele U. Surgi- cal site infections: A one year prospective study in a tertiary care center. International  Journal of Health Sciences, Qassim University, Vol. 6, No. 1 ( Jan 2012/ Safar 1433H). |  Tanner J., Woodings D., Moncaster K. Preoperative hair removal to reduce surgical site infection. Cochrane Database Syst Rev.2006 Jul 19;(3). |  Giacometti A, Cirioni O, Schimizzi AM, Prete MSD, Barchiesi F, D'Errico MM, Petrelli E, Scalise G. Epidemiology and Microbiology of Surgical Wound Infections. J Clin Microbiol 2000;38(2):918–22. |  Prasanna Gupta. A study of postoperative wound infection among post-surgical patients  at Calicut medical college, Kerala, India. Journal of Evolution of Medical and Dental Sciences, October - 2012; Volume (1)Issue(4) Page 582....

Less