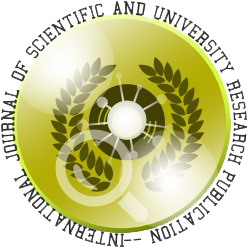 Examining Patriarchal Hegemony in Manju Kapur's Difficult Daughters
Authore(s) : Anjali Sharma ||| Reseacher
Volume : 9, Issue : 3, March - 2022
Abstract :
Manju Kapur speaks with great narrative eloquence of the idea of independence. The novels of Manju Kapur unveil those deviations in modernity that have led to the worthlessness in our society and the modern life. As one of the strongest Feminist Indian authors she has insisted on the up-lift of women empowerment and potency. She has written six great novels, namely Difficult Daughters (1998), A Married Woman (2002), Home (2006), The Immigrant (2008), Custody (2011), Brothers: A Novel (2016). Besides these novels, Kapur has also written wonderful short stories- The Necklace, Chocolate. In all her novels, the readers get the opportunity to understand the woman of modern era, her inconvenience and her aspiration to become independent. The husband-wife relationship has been engaged up as a major theme in all her novels. She exposes the unequal trends of the patriarchal society in which male plays  the  dominating  role and  portrays  the  women  who  want  changes  in  the norms  of traditions. She has also contributed more than 50 articles. Women have been striving for equality with men for hundreds of years. Because they were women, they were kept back and their opportunities were taken away from them. Feminism is the belief in gender equality in social, political, and economic matters. And it has been the feminist movement that has attempted to grant these rights to women who have been denied equality and benefits that men have never granted them. Patriarchal rule has harmed women all throughout the world. A woman is bombarded with societal images, rewards, and penalties from the moment she is born, all of which are meticulously engineered to prevent her from developing the qualities associated with the other half of humankind. Despite the fact that Difficult Daughters is not explicitly a feminist novel, it raises concerns of gender discrimination, patriarchal hegemony created in the society and the struggle of suffering of Indian women under the oppressive mechanisms of a closed society. They fight to keep their dignity and, in the end, reclaim their individuality as individuals. The story of a woman whose struggle for independence engulfs her, leaving a contour of partition and sorrow on her ostensibly tranquil face, is the narrative fabric of Difficult Daughters, set around the period of division. The purpose of this article is to examine the novel in which the female protagonist, Virmati is bound by tradition and patriarchal ideals tries to satisfy her suppressed needs but is eventually consumed by pain and isolation.
Keywords :
patriarchy, Hegemony, Gender, Feminism and Violence, relationship, modern society.
Cite This Article:
Difficult Daughters by Manju Kapoor is the story of a young girl trying to piece together her dead mother's past in order to understand why their relationship was so strained.
Vol.I 9, Issue.I 3
Article No :
Number of Downloads : 101
References :

Kapur,Manju. Difficult Daughter. London: Faber and faber, 1998.Print. Bai, K. Meera. Woman's Voices. New Delhi. Prestige books, 1996. Print. De, Beauvior Simone. The Second Sex.Ed.and trans. By H.M.Parshley.Harmondsworth: Forbes, Geraldine. Women in Modern India. Cambridge University press, 2009. Print. Woolstonecraft, Mary. A Vindication of the Rights of Women. Musaicum books,...

More

Kapur,Manju. Difficult Daughter. London: Faber and faber, 1998.Print.
Bai, K. Meera. Woman's Voices. New Delhi. Prestige books, 1996. Print.
De, Beauvior Simone. The Second Sex.Ed.and trans. By H.M.Parshley.Harmondsworth:
Forbes, Geraldine. Women in Modern India. Cambridge University press, 2009. Print.
Woolstonecraft, Mary. A Vindication of the Rights of Women. Musaicum books, 2007.https://ijsurp.com/wp-admin/post.php?post=8624&action=edit&lang=en#:~:text=https%3A//ijsurp.com/2022/03/examining%2Dpatria%E2%80%A6ficult%2Ddaughters/
https://ijsurp.com/

...

Less