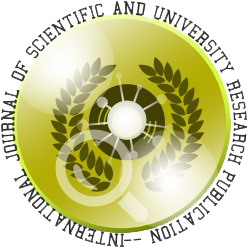 Study of Fungal Isolates in Nasal Polyposis
Authore(s) : Dr. O. Satyanarayana || Associate Professor of Microbiology.
Volume : (3), Issue : 211, February - 2017
Abstract :
O
bjective :
To study the frequency and species of underlying fungus in polyps of patients operated for nasal polyposis.
M
et
hodology:
A total of 50 patients operated for nasal polyps were included in this study. Data regarding unilateral or bilateral polyposis and recurrence was collected from all the patients records. Post operatively the removed polyp material subjected to KOH wet mount direct examination and fungal culture. The findings are analysed.
R
esults :
Out of 50 patients 36 (72%) were in the age group of 31-60 years. Underlying fungus was present in 30 (60%) samples, out of them Aspergillus flavus 8 and Aspergillus fumigatus in 12. In this 50 cases 30 were bilateral polyposis with 22 fungal isolations and 20 were unilateral polyposis with 8 fungal isolations. In the study, 40 were first time operated with 21 fungal isolations and 10 were second time operated with 9 fungal isolations.
Conclusion :
Fungi  could be considered as the causative factor in the development of nasal polyposis and Aspergillus was the commonest organism.
Keywords :
Nasal polyps, Recurrent polyposis, Fungi, Aspergillus flavus, Aspergillus fumigatus.
Cite This Article:
in Nasal Polyposis
Vol.I (3), Issue.I 211
Article No : 10056
Number of Downloads : 100
References :

Bateman N, Fahy C and Wool Ford. T (2003) nasal polyps still more questions than answers. J. Laryngol, 117, 1-9. Bachert C, wagenmann M, Rudack C et al., the role of cytokines in infectious sinusitis and nasal polyposis. Allergy 1998 Jan. 53(1):2-13. Text Book of Medical Mycology,JagdishChander, 3rd edition, 2009. Chrostowski D, Ponpracic J control of chronic nasal symptoms directing treatment at the underlying cause. Post Graduate...

More

Bateman N, Fahy C and Wool Ford. T (2003) nasal polyps still more questions than answers. J. Laryngol, 117, 1-9.
Bachert C, wagenmann M, Rudack C et al., the role of cytokines in infectious sinusitis and nasal polyposis. Allergy 1998 Jan. 53(1):2-13.
Text Book of Medical Mycology,JagdishChander, 3rd edition, 2009.
Chrostowski D, Ponpracic J control of chronic nasal symptoms directing treatment at the underlying cause. Post Graduate Med J. 2002,  June.111(6): 77-8, 83-4, 87-8.
Schweitz LA, Gourley DS, Allergic fungal sinusitis. Allergy proc. 1992 Jan-Feb; 13(1): 3-6
Richetti A, Landis BN, Maffiuli A, et al., effect of antifungal nasal lavage with Amphotericin B on nasal polyposis J, Laryngology  and otology, 2002 Apr. 116(4), 261-263.
Pitzurra L, Hellochin S, Nocentini A et al., Antifungal immune reactivity in nasal polyposis. Infect immun. 2004 Dec. 72(12), 75-81.
E. Razmpa, M. Khajavi, M. HadipourJahroni, P. Kordabacheh the prevalence of fungal infections in nasal polyposis. ActamedicaIranica, Vol 45, No.1 (2007) Pp 46-50.
Atif Hafeezsiddiqui, Arsalon Ahmed sheik, Tarikzahid Khan et al sinonasal polyposis and fungus: A growing relationship, International Journal of Endorsing Health science research. Vol.3 Issue 1, June 2014 Pp 58-61.
P.Kordbacheh, F. Zaini, A Sabokbar et al., Fungi as causative agent of Nasal polyps, Iranian Journal of Public Health, 2006 Vol.35, No.1, Pp 53-57.

...

Less