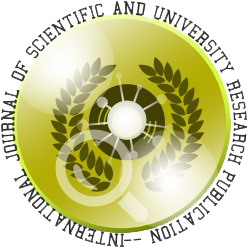 Constitutional perspectives on Labour Wages in India
Authore(s) : Dr. Ashok Shankarrao Pawar || Research Guide and Associate ProfessorDepartment of EconomicsDr. BAMUAurangabad.
Volume : (3), Issue : 211, January - 2019
Abstract :

In India, till now, there is no uniform and comprehensive wage policy for all sectors of the economy. Wages in the organized sector are determined through negotiations and settlements between employer and employees. However, in unorganized sector, where labour is vulnerable to exploitation, due to illiteracy and having no effective bargaining power, minimum rates of wages are fixed or revised both by Central and State Governments in the Scheduled Employments falling under their respective jurisdictions under the provisions of the Minimum Wages Act, 1948. The Payment of Wages Act, 1936 was enacted to regulate payment of wages of employees, employed in Industry and to ensure a speedy and effective remedy to them against illegal deductions and or unjustified delay caused in paying the wages on seventh day of the month in case of industries employing less than one thousand employees.
Keywords :
Wages- Equality, discrimination, Protection, Personal Liberty, Trafficking
Cite This Article:
perspectives on Labour Wages
Vol.I (3), Issue.I 211
Article No : 10011
Number of Downloads : 101
References :

Maneka Gandhi v. Union of India, A.I.R 1978 SC 597, 619. | D.S. Nakarra v. Union of India, A.I.R 1983 SC| Government of Andra Pradesh v. P.B Vijay Kumar, A.I.R 1995 SC 1648. | Express Newspapers v. Union of India, A.I.R 1958 SC 578. |Art.19 (1) (g) and 19(6) demand that in fixing Living wage or Fair Wage, industry's 'capacity to pay' is an essential ingredient. | Bakshish Singh v. Darshan Engineering Works, A.I.R 1994 SC 251....

More

Maneka Gandhi v. Union of India, A.I.R 1978 SC 597, 619. |
D.S. Nakarra v. Union of India, A.I.R 1983 SC| Government of Andra Pradesh v. P.B Vijay Kumar, A.I.R 1995 SC 1648. |
Express Newspapers v. Union of India, A.I.R 1958 SC 578. |Art.19 (1) (g) and 19(6) demand that in fixing Living wage or Fair Wage, industry's 'capacity to pay' is an essential ingredient. |
Bakshish Singh v. Darshan Engineering Works, A.I.R 1994 SC 251. |
M.G Beedi Works v. Union of India, A.I.R1974 SC 1832. |
Jalan trading Co v. D.M. Aney, A.I.R 1979 SC 233. |Art.43 provides for Living wage, etc, for workers | Maneka Gandhi v. Union of India, A.I.R 1978 SC 597. |
Board of Trustees of the Port of Bombay v. Dilipkumar R. Nandakarni, A.I.R 1983 SC 109. |
Olga Tellis v. Bombay Municipal Corp, A.I.R 1986 SC 180 [See also, Dr. Hariraj L. Chulani v. Bar Council of Maharashtra & Goa, A.I.R 1996 SC 1706]. |
A.I.R 1992 SC 789. | Right to Work has not yet been recognized as a Fundamental right in India. | A.I.R 1995 SC 922.|
Charles Sobraj v. Superintendent, Central Jail, Tihar, A.I.R 1978 SC 1514; Also, Sunil Batra v. Delhi Administration, A.I.R 1978 SC |
A.I.R 1995 SC 940. | Parmananda Katara v. Union of India, A.I.R 1989 SC 2039: (1989) 4 SCC 248. |
Air India Statutory Corp v. United Labour Union, A.I.R 1997 SC 645. |
People's Union for Democratic Rights v. Union of India, A.I.R 1982 SC 1473: (1982) 3 SCC 235.
Chandra Raja Kumar v. Police Commissioner, Hyderabad, A.I.R 1998 AP 302. |
See also, Bandhua Mukti Morcha v. Unionof India, A.I.R 1984 SC 802: (1984) 3 SCC 392. | | Supra note 28, [Also known as the Asiad Case].

...

Less