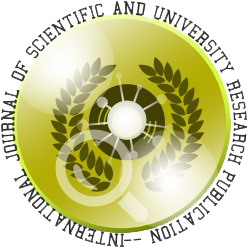 Cost and Returns from the Cultivation of Gloriosa Superba
Authore(s) : P. Manimalathi || Research Scholar in EconomicsBharathiar UniversityCoimbatore - 641046.
Volume : (3), Issue : 211, January - 2019
Abstract :

The main aim of the paper is to estimate the cost of cultivation and net income generated from the cultivation of Gloriosa Superba in Aravakurichi block, Karur district. All 186 farmers from four villages in Aravakurichi block cultivating Gloriosa Superba were contacted for the purpose of data collection. The data is collected for the year 2011. The results showed that the total cost was higher for large farmer than small farmer while the net return over cost A1, A2, B & C was higher in the case of small farmer than the large farmer. Value of production of the large farms was more than the small farms but the net return over Cost C was Rs.-8.034 for small farmer and Rs.-16402 for large farmer. The lesser economic benefits both in the case of small and large farmers were due to higher cost of cultivation, greater variations in price and poor marketing facilities existing in the study area.
Keywords :
Gloriosa Superba, Cost of Cultivation and Net Income.
Cite This Article:
Returns from the Cultivation
Vol.I (3), Issue.I 211
Article No : 10013
Number of Downloads : 105
References :

 Ajjan N., N. Raveendaran, K. Rajamani, V.M. Indhumathi and A.R. Vennila (2010), "Medicinal Plant Kalmegh (Andrographis Paniculata): A Case for Rising and its Supply and Marketing in Tamilnadu", Financing Agriculture. |  Alok P Jain and Suryavanshi (2010), "Gloriosa superba Linn A Pharmacological Review", International Journal of Pharmaceutical Research & Development, 2(8), 24-30. |  Eshrat Sharmen Akand (2005),...

More

 Ajjan N., N. Raveendaran, K. Rajamani, V.M. Indhumathi and A.R. Vennila (2010), "Medicinal Plant Kalmegh (Andrographis Paniculata): A Case for Rising and its Supply and Marketing in Tamilnadu", Financing Agriculture. |
 Alok P Jain and Suryavanshi (2010), "Gloriosa superba Linn A Pharmacological Review", International Journal of Pharmaceutical Research & Development, 2(8), 24-30. |
 Eshrat Sharmen Akand (2005), "Medicinal Plant Species and their Contribution to Income Generation and Biodiversity Conservation", M.Sc. Project Submitted to Agro Forestry and Environment, Bangabandhu Sheikh Mujibur Rahman Agricultural University, Bangladesh. |
Puran Mal, R.K. Grover and D.P. Malik (2009), "Economic Analysis of Cultivation of Safed Musli (Chlorophytum Borivillianum) in Haryana", Indian Journal of Arecanut, Spices and Medicinal Plants, 11(1), 1-7. |

...

Less