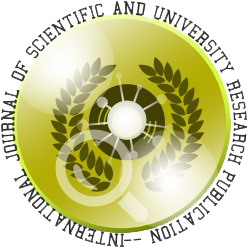 Cost Elasticity of demand for Agricultural Credit
Authore(s) : Shakti Kumar || Assistant ProfessorDepartment of Economics and Rural DevelopmentDr. R.M.L. Avadh UniversityFaizabad.
Volume : (3), Issue : 211, January - 2019
Abstract :

Cost elasticity of demand for agricultural credit is more than unity in all the case of farm sizes, sources of credit, and terms of credit and purpose of credit. Cost elasticity of demand for credit increases as on switches over from marginal to big farm size, institutional to non-institutional, short to long term and from production purpose to investment purpose.
Keywords :
Cost elasticity, credit demand, terms of credit.
Cite This Article:
demand for Agricultural Credit
Vol.I (3), Issue.I 211
Article No : 10008
Number of Downloads : 100
References :

Ghatak, S., (1975). Rural Interest Rates in the Indian Economy, Journal of Development Studies, Vol. II, No. 3, April | Patel, K.V. and D.P.Khankhonje (1993) "Rural Banking: Basic Issues and Scope for Restructuring", Pranjan, 21(4) | Rath, N., (1989)." Institutional Credit for Agriculture in India", Journal of Indian School of Political Economy, Vol. I, No. 2, July-December | Binswanger, Hans P. (1980). "Attitudes towards...

More

Ghatak, S., (1975). Rural Interest Rates in the Indian Economy, Journal of Development Studies, Vol. II, No. 3, April |
Patel, K.V. and D.P.Khankhonje (1993) "Rural Banking: Basic Issues and Scope for Restructuring", Pranjan, 21(4) |
Rath, N., (1989)." Institutional Credit for Agriculture in India", Journal of Indian School of Political Economy, Vol. I, No. 2, July-December |
Binswanger, Hans P. (1980). "Attitudes towards Risk: Experimental Measurements in Rural India", American Journal of Agricultural Economics, 62, PP: 395-407.

...

Less