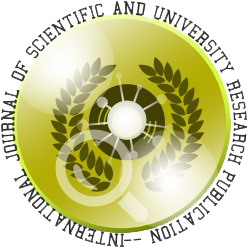 Management information systems and business decision making: review, analysis, and recommendations
Authore(s) : Srinivas Nowduri || Bloomsburg University of Pennsylvania.
Volume : (3), Issue : 205, January - 2019
Abstract :

The role of Management Information Systems is described and analyzed in light of its capability for decision making. Decision making process and its impact on top level management in a business organization is explained with an emphasis on automated decision making. Limitations and challenges of MIS are discussed and a set of six recommendations proposed for increasing the effectiveness of MIS in the decision making process.
Keywords :
Keywords: Information Systems, Transactional Processing Systems, TPS, Management Information Systems, MIS, Expert Systems.
Cite This Article:
information systems and business decision
Vol.I (3), Issue.I 205
Article No : 10055
Number of Downloads : 404
References :

Allen, B., Heurtebise, A., & Turnbull, J. (2010). Improving Information Access. Business Management US. Retrieved October 2, 2010 from  http://www.busmanagement.com/article/Improving-information-access/ Al-Zhrani, S. (2010). Management information systems role in decision-making during crises: case study. Journal of Computer Science, 6(11), 1247-1251. Chambers, R. J. (1964). The role of information systems in decision making....

More

Allen, B., Heurtebise, A., & Turnbull, J. (2010). Improving Information Access. Business Management US. Retrieved October 2, 2010 from  http://www.busmanagement.com/article/Improving-information-access/
Al-Zhrani, S. (2010). Management information systems role in decision-making during crises: case study. Journal of Computer Science, 6(11), 1247-1251.
Chambers, R. J. (1964). The role of information systems in decision making. Management Technology, 4 (1), 15-25.
Davenport, T. H., & Short, J. E. (1990). The new industrial engineering: Information technology and business process redesign. MIT Sloan Management Review. Retrieved October 2, 2010 from http://sloanreview.mit.edu/the-magazine/articles/1990/summer/3141/the-new- industrial-engineering-information-technology-and-business-process-redesign/2/
Demetrius, K. (1996). The role of expert systems in improving the management of processes in total quality management organizations. SAM Advanced management Journal. Retrieved October 2, 2010 from http://www.allbusiness.com/management/591381-1.html
Jahangir, K. (2005). Improving organizational best practice with information systems.Knowledge Management Review. Retrieved October 2, 2010 from http://findarticles.com/p/articles/mi_qa5362/is_200501/ai_n21371132/
Jarboe, K. P. (2005). Reporting intangibles: A hard look at improving business information in the
U.S. Athena Alliance. Retrieved October 2, 2010 from http://www.athenaalliance.org/apapers/ReportingIntangibles.htm
Kumar, P. K. (2006). Information System—Decision Making. IndianMBA. Retrieved October 2, 2010 from  http://www.indianmba.com/Faculty_Column/FC307/fc307.html
Jawadekar. (2006). Management information systems: Texts and cases. New York, NY: McGraw Hill.
Kirk, J. (1999). Information in organisations: directions for information management. Information Research, 4 (3). Retrieved October 2, 2010 from  http://informationr.net/ir/4- 3/paper57.html
Lingham, L. (2006). Managing a business/ Management information system. All Experts. Retrieved October 2, 2010 from http://en.allexperts.com/q/Managing-Business- 1088/management-information-system.htm
Rhodes, J. (2010). The Role of Management Information Systems in Decision Making. eHow. Retrieved October 2, 2010 from  http://www.ehow.com/facts_7147006_role-information- systems-decision-making.html The Maniac. (n.d.). Management information system: The center of management decision making. Helium. Retrieved October 2, 2010 from  http://www.helium.com/items/242575- management-information-system-the-center-of-management-decision-making
UStudy.in. (2010). MIS and decision making. Retrieved October 2, 2010 from http://www.ustudy.in/node/1009
Vittal, A., & Shivraj, K. (2008). Role of IT and KM in improving project management performance. VINE, 38 (3), 357 – 369.

...

Less