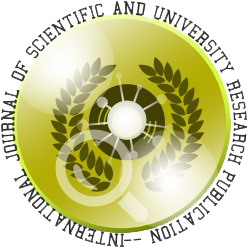 Overview the E-Commerce in Bangladesh.
Authore(s) : Md. Mohiuddin || Associate ProfessorDepartment of Management StudiesJagannath UniversityDhaka-1100Bangladesh.
Volume : (13), Issue : 205, January - 2019
Abstract :
Electronic commerce, commonly known as e-commerce which consists of the buying and selling of products or services over electronic systems such as the internet and other computer networks. Electronic commerce is rapidly growing  as an  impressive  manifestation of globalization.  The  rapid expansion of e- commerce is a major opportunity for local and international trade development of LDCs including Bangladesh. The amount of trade conducted electronically has grown dramatically since the spread of the internet . A wide variety of commerce is conducted in this way, spurring and drawing on innovations in electronic fund transfer, supply chain  management,  internet  marketing,  online transaction  processing,  electronic  data  interchange, automated inventory management systems and automated data collection systems. Modern electronic commerce typically uses the World Wide Web at least at some point in the transaction's life cycle, although it can encompass a wider range of technologies such as e-mail as well. Bangladesh has also stepped into the arena of e-commerce slowly but surely. This work focuses on the overall e-commerce websites and business to consumer category of Bangladesh (B2C). This article emphasizes on secondary sources data collection. The report ends with recommendations and conclusion.
Keywords :E-commerce, Business to Business (B2B), Business to Consumer (B2C), Business to Government (B2G),  E-Market.
Cite This Article:
the E-Commerce in Bangladesh.
Vol.I (13), Issue.I 205
Article No : 10044
Number of Downloads : 105
References :

  Tkacz, Ewaryst; Kapczynski, Adrian, Springer, 2009, 255. Miller,  Holmes  E.  and  Engemann,  Kurt  J.,  A  methodology  for  managing  information-based  risk,  Information  Resources Management Journal,9(2), 17-24. Introduction to E-commerce, Available: www.pearsonhighered.com/samplechapter/0131735160.pdf Forecast for Global Ecommerce: Growth, Available: www.captureecommerce.com  Mann, Catherine L., Sue E....

More

  Tkacz, Ewaryst; Kapczynski, Adrian, Springer, 2009, 255.
Miller,  Holmes  E.  and  Engemann,  Kurt  J.,  A  methodology  for  managing  information-based  risk,  Information  Resources Management Journal,9(2), 17-24.
Introduction to E-commerce, Available: www.pearsonhighered.com/samplechapter/0131735160.pdf
Forecast for Global Ecommerce: Growth, Available: www.captureecommerce.com
 Mann, Catherine L., Sue E. Eckret and Sarah Cleeland Knight, A Policy Primer: Global Electronic Commerce, Institute for International Economics, Washington DC, 2000.
Ministry of Commerce, Government of Bangladesh, Trade policy Review, April 2000, Dhaka, 2000.
Ministry of Commerce, Government of Bangladesh, Report on Export of Computer Software from Bangladesh: Problems and Prospects, Dhaka, 1997.
Nazmul Hossain, E-commerce in Bangladesh: Status, Potential and Constraints, December 2000.
David Lucking-Reiley and Danniel F. Spulber, BUSINESS-TO BUSINESS ELECTRONIC COMMERCE, June 2000.
E-commerce in Bangladesh, Available: www.docstoc.com/docs/116138506/E-commerce-in-Bangladesh
 Internet World Status, Available: www.internetworldstats.com/asia/bd.htm
 E-commerce definition and types of e-commerce, Available: www.digitsmith.com/ecommerce-definition.html
 All About Market Research, Available: www.allaboutmarketresearch.com/internet.htm

...

Less