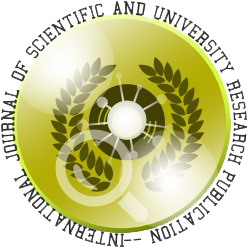 Effect of Weed Extract on Forage Quality of Medicago sativa L.
Authore(s) : Dr. N. H. Brahmbhatt || Associate ProfessorV.P & R.P.T.P Science CollegeBotany DepartmentV.V.NagarAnand-388120India
Volume : (4), Issue : (4), April - 2019
Abstract :

From all forage crops, which together with meadows have a major contribution in ensuring the forage base, alfalfa crop (Medicago sativa L.) occupies a position of great importance. This plant is distinguished by its forage value, high cultivation area and high digestibility, and from the point of view of farmers and world's agricultural sciences is considered to be the "Queen of Fodder Herbs". In order to determine the quality of alfalfa, a series of classical analysis for cellulose, Neutral Detergent Fiber, Acid Detergent Fiber and Acid Detergent Lipid were performed. In the present work, Oscillatoria sp. and Spirogyra sp. were used as inoculum in pot culture of Medicago sativa. The result revealed that addition of all algal extracts can enhance forage quality in all treated plants. Statistical analysis showed that there are significant differences in % ADF, % NDF, %DDM, %DMI and RFV as compared to control.
Keywords :
Spirogyra sp.; Oscillatoria sp.; Medicago sativa ; %ADF; %NDF; %RFV;
Cite This Article:
Effect of Weed Extract on Forage Quality of Medicago sativa L.
Vol.I (4), Issue.I (4)
Article No : 11452
Number of Downloads : 101
References :

[1] Dwain Meyer, Professor of Plant Sciences, Agricultural Experiment Station -Seed Germination, Seedling Growth, Vegetative Development R-648, (Revised), January 1999. [2] Moore, G, Sanford, P & Wiley, T 2006, Perennial pastures for Western Australia, 17 Department of Agriculture and Food Western Australia, Bulletin 4690. [3] Z. Sharitamadari et al. Study of soil blue-green algae and their effect on seed germination and plant growth...

More

[1] Dwain Meyer, Professor of Plant Sciences, Agricultural Experiment Station -Seed Germination, Seedling Growth, Vegetative Development R-648, (Revised), January 1999.

[2] Moore, G, Sanford, P & Wiley, T 2006, Perennial pastures for Western Australia, 17 Department of Agriculture and Food Western Australia, Bulletin 4690.

[3] Z. Sharitamadari et al. Study of soil blue-green algae and their effect on seed germination and plant growth of vegetable crops Rostaniha 12(2): 101-110 (2011).

 [4] Wajahatullah Khan et al. Seaweed Extracts as Biostimulants of Plant Growth and Development Received: Plant Growth Regulators (2009) 28:386–399 DOI 10.1007/s00344-009-9103-x

[5] R.M.S. Sengar, Seema Bhadauria and Poonam Sharma, the effect of Cyanobacterial Toxin on seed germination. Indian J.Sci.Res.1 (2): 41-45, 2010.

[6] N. Daneshvar et al. Biodegradation of the Textile Dye Malachite Green by Microalgae Cosmarium sp. International Journal for Science and high Technology and Environmental Sciences

[7] Mohamed Saad et al. Decolorization of Malachite Green and Methylene Blue by Two Microalgal Species, International Journal of Chemical and Environmental Engineering October 2012 Volume 3, No.5

[8] Laura Monica DALE et al. Determination of Alfalfa Crude fiber, NDF, ADF and Lignin content by NIR Spectrometry Lucrări Ştiinţifice – vol. 55/2012, Seria Agronomie

[9] USDA/APHIS Environmental Assessment Monsanto Company and Forage Genetics International Petition 04- 110 01p for Determination of Non-regulated Status for Roundup Ready ® Alfalfa Events J101 and J163

[10] Nadiya A Al-Saady et al. A Study on Germination Rate, Dry Matter Weight and Amylase Activity of Medicago sativa L. (alfalfa) under Induced NaCl Stress Adv Crop Sci. Tech 2013, 1:3 http://dx.doi.org/10.4172/2329- 8863.1000108 [11] Hassan S. Namkeleja et al. Allelopathic Effect of Aqueous Extract of Argemone mexicana L on Germination and Growth of Brachiaria dictyoneura L and Clitoria ternatea L. American Journal Of Plant Sciences,2013,4,2138-2147 November 2013 http://www.scirp.org/journal/ajps)(http://dx.doi.org/10.4 236/ajps.2013.411266

[12] Basher, A. Alalwani, Effect of Seaweed and Drainage Water on Germination and Seedling Growth of Tomato (Lycopersicon spp.) Euphrates Journal of Agriculture Science-4 (4): 24-39, (2012)

[13]M.M.Anisimov et al. Effect of Seaweed Extracts on the Growth of Seedling Roots of Soybean (Glycine max (L.) Merr.) Seasonal Changes in the Activity International Journal of Current Research and Academic review ISSN: 2347-3215 volume 2 number 3 (March 2014) pp.19- 23

[14] Mikhail M. Anisimov et al. Effect of Water Extract of Seaweed on the growth of seedling roots of Buckwheat IJRRAS 16(2) August 2013 www.arpapress.com/Volumes/Vol16Issue2/IJRRAS_16 _2_16.pdf

[15] Dr. Daniel Rivera, Extension Service of Mississippi State University, cooperating with U.S. Department of Agriculture. Published in furtherance of Acts of Congress, May 8 and June 30, 1914. MELISSA J. MIXON, Interim Director (POD-07-10)

[16] Mark McCaslin, Re designing alfalfa for improved dairy performance International Journal of Forage Genetics, Plant Sciences Department, University of California, Davis, CA 95616. http://alfalfa.ucdavis.edu for this and other alfalfa symposium Proceedings

[17]Van Soest, P. J. 1994. Nutritional ecology of the ruminant. Cornell University Press. Ithaca, NY and London, UK

Abbreviations

SS = SUM OF SQUARE

SD = Standard deviation

Df = Degree of Freedom

S.E.M= Standard error mean

Ms = Mean square

DM = Dry matter

ADF= Acid Detergent Fiber

NDF = Neutral detergent Fiber

DDM = Digestibility Dry Matter

DMI = Dry Matter Intake

RFV = Relative feed Value

...

Less