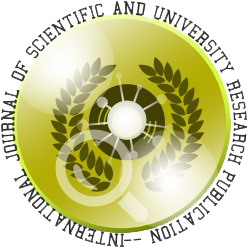 DIGITAL TECHNOLOGIES IN BRIDGING THE DISABILITY BETWEEN EMPLOYEE ORGANIZATION RELATIONSHIPS
Authore(s) : Pradyun M. Lakshmi. P.
Volume : v(8), Issue : 9, June - 2017
Abstract :
Digital technology breaks traditional barriers to communication, interaction, and transfer of information between employee and employers, it helps in increasing the efficiency in chain of command through the way of delegating authority through management, supervisors, and immediate subordinates.  This paper provides an overview of the opportunities presented by the   internet   and   Information's   and   communications   technology   (ICT)   for   the   full participation of employees in various divisions of the organization particularly in the human resources management. This paper proves that digital technology plays a major role in improving   the   integrity   of   communication   and   interaction   between   employee   and organization.
Keywords :
Cite This Article:
DIGITAL TECHNOLOGIES IN BRIDGING THE DISABILITY BETWEEN EMPLOYEE ORGANIZATION RELATIONSHIPS
Vol.I v(8), Issue.I 9
Article No : 321
Number of Downloads : 100
References :

Karimi, J., & Walter, Z. (2015). The role of dynamic capabilities in responding to digital disruption: A factor-based study of the newspaper industry. Journal of Management Information Systems, 32(1), 39-81. Hogan,  R.,  Chamorro-Premuzic,  T.,  &  Kaiser,  R.  B.  (2013).  Employability  and  career success: Bridging the gap between theory and reality. Industrial and Organizational Psychology, 6(1), 3-16. Mihalcea,  A....

More

Karimi, J., & Walter, Z. (2015). The role of dynamic capabilities in responding to digital disruption: A factor-based study of the newspaper industry. Journal of Management Information Systems, 32(1), 39-81. Hogan,  R.,  Chamorro-Premuzic,  T.,  &  Kaiser,  R.  B.  (2013).  Employability  and  career success: Bridging the gap between theory and reality. Industrial and Organizational Psychology, 6(1), 3-16. Mihalcea,  A.  (2017).  Employer  branding  and  talent  management  in  the  digital  age. Management Dynamics in the Knowledge Economy, 5(2), 289-306. Berger, T., & Frey, B. (2016). Digitalisation, jobs and convergence in Europe: Strategies for closing the skills gap (Vol. 50). Oxford: Oxford Martin School. Fleisch, E., Wortmann, F., Bilgeri, D., & Weinberger, M. (2016). Revenue models and the Internet of Things? A Consumer IoT-based Investigation. ETH Zurich. Hinings,   B.,   Gegenhuber,   T.,   &   Greenwood,   R.   (2018).   Digital   innovation   and transformation: An institutional perspective. Information and Organization, 28(1), 52-61. Agostino, D., Arnaboldi, M., & Lema, M. D. (2021). New development: COVID-19 as an accelerator of digital transformation in public service delivery. Public Money & Management, 41(1), 69-72. Savić, D. (2020). COVID-19 and work from home: Digital transformation of the workforce. Grey Journal (TGJ), 16(2), 101-104. Li, L., Su, F., Zhang, W., & Mao, J. Y. (2018). Digital transformation by SME entrepreneurs: A capability perspective. Information Systems Journal, 28(6), 1129-1157. Matsoso, M. L., & Benedict, O. H. (2020). Work-integrated learning: a powerful connecting tool between classroom and industry. International Journal of Education Economics and Development, 11(1), 94-112. ...

Less