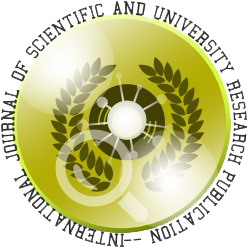 Alternative Medicine The Role and Meaning of ritual in the Placebo effect
Authore(s) : Sunneva Friðþjófsdóttir || Prentun: Háskólaprent ReykjavíkÍsland 2014.
Volume : (13), Issue : 205, January - 2018
Abstract :

In the last few decades, what is commonly known as complimentary and alternative medicine (CAM) has become increasingly popular. Simply put, it is any form of healing; method or medicine, that is generally not acknowledged by health authorities.     It differs between societies, what is CAM to us is traditional in other countries.  Many CAM treatments seem to focus on the patient as a whole, i.e a mind inside of a body and attention needs to be given to both if healing is to take place. This personal approach seems to be one of the main factors for its popularity in recent years.The main problem seems to be that not enough clinical research has been made that shows beyond any doubt the efficiency of these treatments, and that process is not made any easier by the fact that is an umbrella term that covers a vast field of different therapies and medicines which makes terminology and classification difficult. Doctors are therefore hesitant to recommend any remedies or treatments that have not been through the clinical scrutiny that traditional medicine has to go through before it is put in the shelves  of  pharmacies,  stating  especially  the  risks  of  these  treatments  colliding  with traditional medicine the patient may be receiving. Some have even gone so far as to dismiss nearly all effects of CAM as mere placebo effects stating lack of research to prove that its effects are anything else. Even though the placebo effect clearly is a part of CAM it is an oversimplification to say one is the same as the other. The dismissal of placebos as inert does not stand up to scrutiny, as many tests have shown that their use has proven effective in many circumstances.  On the other hand much more research is to be done before we can really tell just how effective CAM and placebos are and if they should have their place in modern medicine.
Keywords :Alternative, Medicine, Role, Meaning.
Cite This Article:
Meaning of ritual in the Placebo effect
Vol.I (13), Issue.I 205
Article No : 10026
Number of Downloads : 101
References :

Cohen, M. H. (2009). Future medicine: Ethical dilemmas, regulatory challenges. London, UK: Springer Science. Donal, M. & Larimore, W. (2006). Alternative medicine : The Christian Handbook, Updated and Expanded. Michigan USA: Christian Medical Association. Evans, D. (2004). Placebo: Mind over matter in modern medicine. New York, NY: Oxford University Press. Harrington, A. (2010). The placebo effect: An interdisciplinary...

More

Cohen, M. H. (2009). Future medicine: Ethical dilemmas, regulatory challenges. London, UK: Springer Science.
Donal, M. & Larimore, W. (2006). Alternative medicine : The Christian Handbook, Updated and Expanded. Michigan USA: Christian Medical Association.
Evans, D. (2004). Placebo: Mind over matter in modern medicine. New York, NY: Oxford University Press.
Harrington, A. (2010). The placebo effect: An interdisciplinary exploration. Cambridge, MA: Harvard University Press.
Institute of Medicine. (2005). Complementary and alternative medicine in the U.S. Washington, D.C: National Academies Press.
Kelner, M., Wellman, B. & Bernice, P. (2010). Complementary and alternative medicine. Philadelphia, PA: Elsevier Health Sciences.
Maddalena, S. (2005). Alternative medicines: On the way towards integration? London, UK: Peter Lang Publishers.
Moerman, D. (2002). Meaning, medicine and the placebo effect. Cambridge, MA: Cambridge University Press.
Muskin, P. R. (2008). Complementary and alternative medicine and psychiatry. New York, NY: American Psychiatric Pub.
National Institute of Health. (2012). Alternative medicine: Expanding medical horizons. Chantilly, VA: Diane Publishing.
Nichter, M., Ritenbaugh, C., & Thompson, J. (2009). Reconsidering the Placebo Response from a Broad Anthropological Perspective. Retrieved April 19, 2014, from the National Institutes of Health. https://www.ncbi.nlm.nih.gov/pmc/articles/PMC2730465/pdf/nihms-132239.pdf.
O'Sullivan, C. (2005). Reshaping herbal medicine. Philadelphia, PA: Elsevier Health Sciences.
Rakel, D. (2012). Integrative medicine. Philadelphia, PA: Elsevier Health Sciences.
Rees, A. M. (2001). The complementary and alternative medicine source book. Westport, CT: ABC- CLIO.
Ruggie, M. (2004). Marginal to mainstream: Alternative medicine in America. New York, NY: Cengage Learning.
Nichter, M, Ritenbaugh, C. and Thompson, J.J. (2009). Reconsidering the Placebo Response from aBroad Anthropological Perspective. Culture Medicinal Psychiatry, 2009 Mar;33(1):112-52.
Ning, A. (2012). How 'alternative' is CAM? Rethinking conventional dichotomies between biomedicine and complementary/alternative medicine. Health (London) 17(2):135-58.
Sointu, E. (2013). Complementary and alternative medicine, embodied subjectivity and experiences of healing. Health (London) 17(5);530-545.
Moerman, D. (2002). Medicine and Placebo effect. New York: Cambridge university press.
Lund, K., Vase, L., Petersen, G. L., Jensen, T. S., & Finnerup, N. B. (2014). Randomised Controlled Trials May Underestimate Drug Effects: Balanced Placebo Trial Design. Plos ONE, 9(1), 1-7.

...

Less