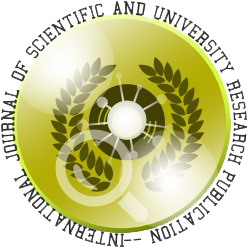 Use of complementary and alternative medicine by cancer patients: systematic review
Authore(s) : Cristiane SpadacioI || I Programa de Pós-graduação em Saúde Coletiva. Faculdade de Ciências Médicas (FCM). Universidade Estadual de Campinas (Unicamp). Campinas SPBrasil.
Volume : (13), Issue : 205, February - 2018
Abstract :

Interest in complementary and alternative medicine has increased, especially among oncology patients. A systematic literature review of the profile of patients who choose to use this type of medicine, as well as their motivations, was carried out on the PubMed database. For this search, the key words used were ?cancer and complementary alternative medicine? and ?oncology and complementary alternative medicine?, covering the period between 1995 and 2005. The selection criteria were the following: key words were present in the article title; article was written in either English, Portuguese, or Spanish; and study was performed with an adult population. From the 43 articles analyzed, it could be concluded that the use of complementary and alternative medicine is part of these patients? social Moreover, its use plays an important role in the identity construction of cancer patients, helping them to make decisions related to conventional treatment.
Keywords :
Neoplasms, prevention & control. Complementary therapies. Alternative therapies. Health knowledge, attitudes, practice. Review [Publication Type].
Cite This Article:
Alternative medicine by cancer patients
Vol.I (13), Issue.I 205
Article No : 10020
Number of Downloads : 102
References :

Alferi SM, Antoni MH, Ironson G, Kilbourn KM, Carver CS. Factors predicting  the use of complementary therapies  in a multi-ethnic sample  of early-stage breast cancer  patients.  J Am Med Womens Assoc. 2001;56(3):120-3,126. Algier LA, Hanoglu  Z, Ozden G, Kara F. The use of complementary and alternative  (non-conventional) medicine in cancer  patients in Turkey. Eur J Oncol Nurs. 2005;9(2):138-46. Balneaves LG, Kristjanson...

More

Alferi SM, Antoni MH, Ironson G, Kilbourn KM, Carver CS. Factors predicting  the use of complementary therapies  in a multi-ethnic sample  of early-stage breast cancer  patients.  J Am Med Womens Assoc. 2001;56(3):120-3,126.
Algier LA, Hanoglu  Z, Ozden G, Kara F. The use of complementary and alternative  (non-conventional) medicine in cancer  patients in Turkey. Eur J Oncol Nurs. 2005;9(2):138-46.
Balneaves LG, Kristjanson LJ, Tataryn D. Beyond convention: describing  complementary therapy use by women  living with breast cancer.  Patient Educ Couns.1999;38(2):143-53.
Block KI. Pain, depression  and fatigue in cancer.  Integr Cancer Ther. 2002;1(4):323-6.
Chrystal K, Allan S, Forgeson G, Isaacs R. The use of complementary/alternative medicine by cancer patients in a New Zealand  regional cancer  treatment centre.  N Z Med J. 2003;116(1168):U296.
Cui Y, Shu XO, Gao Y, Wen W, Ruan ZX, Jin F, et al. Use of complementary and alternative  medicine by chinese  women  with breast cancer.  Breast Cancer Res Treat. 2004;85(3):263-70.
Gray RE, Fitch M, Goel V, Franssen E, Labrecque  M. Utilization  of complementary/alternative services by women  with breast cancer.  J Health Soc Policy.2003;16(4):75-84.
Gupta M, Shafiq N, Kumari S, Pandhi P. Patterns and perceptions of complementary and alternative medicine (CAM) among leukaemia patients visiting haematology clinic of a north Indian tertiary care hospital.  Pharmacoepidemiol Drug Saf. 2002;11(8):671-6.
Hana G, Bar-Sela G, Zhana D, Mashiach T, Robinson E. The use of complementary and alternative  therapies by cancer  patients in northern  Israel. Isr Med Assoc J.2005;7(4):243-7.
Hann D, Baker F, Denniston M, Entrekin N. Long- term breast cancer survivors' use of complementary therapies:  perceived impact on recovery and prevention of recurrence. Integr Cancer Ther. 2005;4(1):14-20.
Harris P, Finlay IG, Cook A, Thomas KJ, Hood K. Complementary and alternative  medicine use by patients with cancer  in Wales: a cross sectional  survey. Complement Ther Med. 2003;11(4):249-53.
Hedderson MM, Patterson RE, Neuhouser ML, Schwartz SM, Bowen DJ, Standish LJ, et al. Sex differences in motives for use of complementary and alternative medicine among cancer  patients.  Altern Ther Health Med. 2004;10(5):58-64.
Henderson JW, Donatelle RJ. The relationship between cancer locus of control  and complementary and alternative  medicine use by women  diagnosed with breast cancer.  Psychooncology. 2003;12(1):59-67.
Henderson JW, Donatelle RJ. Complementary and alternative medicine use by women  after completion of allopathic treatment  for breast cancer.  Altern Ther Health Med. 2004;10(1):52-7
Hyodo I, Amano N, Eguchi K, Narabayashi M, Imanishi J, Hirai M, et al. Nationwide survey on complementary and alternative medicine in cancer  patients in Japan. J Clin Oncol.  2005;23(12):2645-54.
Jordan ML, Delunas LR. Quality of life and patterns of nontraditional therapy use by patients with cancer. Oncol Nurs Forum. 2001;28(7):1107-13.
Kakai H, Maskarinec G, Shumay DM, Tatsumura  Y, Tasaki K. Ethnic differences in choices  of health information  by cancer  patients using complementary and alternative  medicine: an exploratory  study with correspondence analysis. Soc Sci Med. 2003;56(4):851-62.
Kim MJ, Lee SD, Kim DR, Kong YH, Sohn WS, Ki SS,et al. Use of complementary and alternative  medicine among Korean cancer  patients.  Korean J Intern Med. 2004;19(4):250-6.
Lee MM, Lin SS, Wrensch MR, Adler SR, Eisenberg D. Alternative therapies  used by women  with breast cancer  in four ethnic populations. J Natl Cancer Inst.2000;92(1):42-7.
Liu JM, Chu HC, Chin YH, Chen YM, Hsieh RK, Chiou TJ, et al. Cross sectional study of use of alternative medicines in Chinese  cancer  patients.  Jpn J Clin Oncol.1997;27(1):37-41.
Malik IA, Khan NA, Khan W. Use of unconventional methods of therapy by cancer  patients in Pakistan. Eur J Epidemiol. 2000;16(2):155-60.
Maskarinec G, Gotay CC, Tatsumura Y, Shumay DM, Kakai H. Perceived  cancer  causes: use of complementary and alternative  therapy.  Cancer Pract. 2001;9(4):183-90.
Miller M, Boyer MJ, Butow PN, Gattellari M, Dunn SM, Childs A. The use of unproven methods  of treatment  by cancer  patients.  Frequency,  expectations and cost. Support  Care Cancer. 1998;6(4):337-47.
Molassiotis A, Margulies A, Fernandez-Ortega P, Pud D, Panteli V, Bruyns I, et al. Complementary and alternative medicine use in patients with haematological malignancies in Europe. Complement Ther Clin Pract. 2005;11(2):105-10.
Nagel G, Hoyer H, Katenkamp D. Use of complementary and alternative medicine by patients with breast cancer:  observations from a health-care survey. Support  Care Cancer. 2004;12(11):789-96.
Paltiel O, Avitzour M, Peretz T, Cherny N, Kaduri L, Pfeffer RM, et al. Determinants of the use of complementary therapies by patients with cancer.  J Clin Oncol. 2001;19(9):2439-48.
Patterson RE, Neuhouser ML, Hedderson MM, Schwartz SM, Standish LJ, Bowen DJ, et al. Types of alternative medicine used by patients with breast, colon,  or prostate cancer:  predictors,  motives, and costs. J Altern Complement Med. 2002;8(4):477-85.
Pud D, Kaner E, Morag A, Ben-Ami S, Yaffe A.Use of complementary and alternative  medicine among cancer  patients in Israel. Eur J Oncol Nurs. 2005;9(2):124-30.
Rakovitch E, Pignol JP, Chartier C, Ezer M, Verma S, Dranitsaris G, et al. Complementary and alternative medicine use is associated with an increased perception of breast cancer risk and death.  Breast Cancer Res Treat. 2005;90(2):139-48.
Rasky E, Stronegger WJ, Freidl W. Use of unconventional therapies by cancer  patients.  Soz Praventivmed. 1999;44(1):22-9.
Risberg T, Kaasa S, Wist E, Melsom H. Why are cancer patients using non-proven complementary therapies? A cross-sectional multicentre study in Norway.  Eur J Cancer. 1997;33(4):575-80.
Risberg T, Wist E, Bremnes RM. Patients' opinion and use of non-proven therapies  related to their view on cancer  aetiology.  Anticancer  Res. 1998;18(1B):499-505.
Salmenperä L, Suominen T, Lauri S, Puukka P. Attitudes of patients with breast and prostate cancer toward complementary therapies  in Finland. Cancer Nurs. 2001;24(4):328-34.
Schönekaes K, Micke O, Mücke R, Büntzel J, Glatzel M, Bruns F, et al. Forsch [Use of complementary/ alternative therapy methods by patients with breast cancer]. Komplementarmed Klass Naturheilkd.2003;10(6):304-8. [resumo]
Shen J, Andersen R, Albert PS, Wenger N, Glaspy J, Cole M, et al. Use of complementary/alternative therapies  by women  with advanced-stage breast cancer.  BMC Complement Altern Med. 2002;2:8.
Singh H, Maskarinec G, Shumay DM. Understanding the motivation  for conventional and complementary/ alternative  medicine use among men with prostate cancer.  Integr Cancer Ther. 2005;4(2):187-94.
Shumay DM, Maskarinec G, Gotay CC, Heiby EM, Kakai H. Determinants of the degree of complementary and alternative  medicine use among patients with cancer.  J Altern Complement Med. 2002;8(5):661-71.
Söllner W, Zingg-Schir M, Rumpold G, Fritsch P. Attitude toward alternative  therapy,  compliance with standard  treatment,  and need for emotional support in patients with melanoma. Arch Dermatol. 1997;133(3):316-21.
Söllner W, Maislinger S, DeVries A, Steixner E, Rumpold G, Lukas P. Use of complementary and alternative medicine by cancer  patients is not associated with perceived distress or poor compliance with standard  treatment  but with active coping behavior:  a survey. Cancer. 2000;89(4):873-80.
Spiegel W, Zidek T, Vutuc C, Maier M, Isak K, Micksche M. Complementary therapies in cancer patients: prevalence and patients' motives. Wien Klin Wochenschr. 2003;115(19-20):705-9.
Swisher EM, Cohn DE, Goff BA, Parham J, Herzog TJ, Rader JS, et al. Use of complementary and alternative medicine among women with gynecologic  cancers. Gynecol  Oncol. 2002;84(3):363-7.
Tesser CD, Luz MT. Uma introdução às contribuições da epistemologia contemporânea para a medicina. Cienc Saude Coletiva. 2002;7(2):363-72.
Tough SC, Johnston DW, Verhoef MJ, Arthur K, Bryant H. Complementary and alternative medicine use among colorectal cancer  patients in Alberta, Canada. Altern Ther Health Med. 2002;8(2):54-6,58-60,62-4.
Tovey P, Chatwin J, Ahmad S. Toward an understanding of decision making on complementary and alternative medicine (CAM) use in poorer countries:  the case of cancer  care in Pakistan. Integr Cancer Ther.1997;4(3):236-41.
Van der Weg F, Streuli RA. Use of alternative medicine by patients with cancer  in a rural area of Switzerland. Swiss Med Wkly. 2003;133(15-16):233-40.
Wilkinson S, Gomella LG, Smith JA, Brawer MK, Dawson  NA, Wajsman  Z, et al. Attitudes and use of complementary medicine in men with prostate cancer. J Urol. 2002;168(6):2505-9.47.
 Yap KP, McCready DR, Fyles A, Manchul  L, Trudeau M, Narod S. Use of alternative  therapy in postmenopausal breast cancer  patients treated with tamoxifen after surgery. Breast J. 2004;10(6):481-6

...

Less