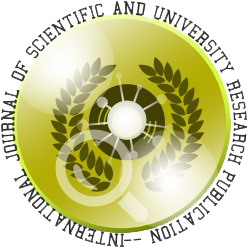 Alternative Medicine In The Management of Oral Mucosal Lesions- A Review
Authore(s) : Kanaparthi Alekhya || Post Graduate StudentDepartment of Oral Medicine and Radiology.
Volume : (13), Issue : 205, June - 2018
Abstract :
The term Alternative Medicine is used to denote a form of medicine that falls outside the main stream of western medicine. These kinds of medicines exist in all cultures to some degrees and terms such as traditional medicines, indigenous medicines, holistic medicines, folk medicines and oriental medicines are used. These medicines when used in dentistry, the term holistic dentistry is used. Alternative medicines or therapy encompasses a variety of disciplines including acupuncture, chiropractic treatment, guided imagery, yoga, biofeedback, hypnosis, aromatherapy, herbal remedies, relaxation, massage etc. There is common patient belief that these therapies are safe to use. However, there is lack of sufficient scientifically proved data regarding their safety and proven to be effective for a specific condition. The emphasis with most alternative therapies is based upon the natural healing capability of the body. This article emphasis the use of various alternative therapies, their advantages, mechanism of actions, side effects and implications in dentistry.
Keywords :Alternative medicine, Anti-oxidant, Herbal medicines, Holistic, Oral mucosal lesions.
Cite This Article:
The Management of Oral Mucosal Lesions- A Review
Vol.I (13), Issue.I 205
Article No : 10021
Number of Downloads : 105
References :

 Little JW. Complementary and alternative medicine: Impact on dentistry. Oral Surg Oral Med Oral Pathol Oral Radiol Endod 2004;98:137-45.   WHO, National Policy on Traditional Medicine and Regulation of Herbal Medicines - Report of a WHO Global Survey, (May 2005), at 121–122. Chithra R Sajithlal GB, Chandrakasan G. Influence of aloe vera on collagen characteristics in healing dermal wounds in rats. Mol Cell Biochem. 1998;...

More

 Little JW. Complementary and alternative medicine: Impact on dentistry. Oral Surg Oral Med Oral Pathol Oral Radiol Endod 2004;98:137-45.
  WHO, National Policy on Traditional Medicine and Regulation of Herbal Medicines - Report of a WHO Global Survey, (May 2005), at 121–122.
Chithra R Sajithlal GB, Chandrakasan G. Influence of aloe vera on collagen characteristics in healing dermal wounds in rats. Mol Cell Biochem. 1998; 181:71–6.
Kim HS, Kacew S, Lee BM (1999).. In vitro chemopreventive effects of plant polysaccharides (Aloe barbadensis Miller, Lentinus edodes, Ganoderma lucidum and Coriolus versicolor). Carcinogenesis. 20: 1637–1640.
Choonhakarn C, Busaracome P, Sripanidkulchai B, Sarakarn P. The efficacy of Aloe vera gel in the treatment of oral lichen planus: A randomized controlled trial. Br J Dermatol. 2008; 158:573–7.
Sudarshan  R,  Annigeri  RG,  Sree  Vijayabala  G.  Aloe  vera  in  the  treatment  for  oral  submucous  fibrosis  –  A preliminary study. J Oral Pathol Med. 2012;41:755–61.
Babaee N, Zabihi E, Mohseni S, Moghadamnia AA. Evaluation of the therapeutic effects of Aloe vera gel on minor recurrent aphthous stomatitis. Dent Res J (Isfahan) 2012; 9:381–5.
Joe B, Vijaykumar M, Lokesh BR Biological properties of curcumin-cellular and molecular mechanisms of action. Crit Rev Food Sci Nutr.2004;44(2): 97-111.
Chan  MM,  Ho  CT,  Huang  HI.  Effects  of  three  dietary  phytochemicals  from  tea,  rosemary  and  turmeric  on inflammation-induced nitrite production. Cancer Lett. 1995; 96:23.
Jacob  A,  Wu  R,  Zhou  M,  Wang  P.  Mechanism  of  the  Anti-inflammatory  Effect  of  Curcumin:  PPAR-γ Activation. PPAR Research. 2007; 2007:89369. doi:10.1155/2007/89369.
Subasree S, Murthykumar K, Sripradha S, Naveed N. Effects of turmeric on oral health: An overview. Int J Pharm Sci Health Care 2014;2:6-14.
Available from: http://www.awl.ch/heilpflanzen/curcuma_ longa/curcuma_en.pdf.
S. Ankri, D. Mirelman Antimicrobial properties of allicin from garlic. Microbes Infect. 1999 Feb; 1(2): 125–129.
Rodrigo  A,  Saray  QF,  López-Roa  RI,  et  al.,  "Immunomodulation  and  Anti-Inflammatory  Effects  of  Garlic Compounds," J Immuno Res. 2015, . doi:10.1155/2015/401630
Jiang XW, Zhang Y, Song GD, Li FF, Peng HY, Yang SK, Sun GL Clinical evaluation of allicin oral adhesive tablets in the treatment of recurrent aphthous ulceration. Oral Surg Oral Med Oral Pathol Oral Radiol. 2012;113(4):500-4.
Bayan  L,  Koulivand  PH,  Gorji  A.  Garlic:  a  review  of  potential  therapeutic  effects. Avicenna  Journal  of Phytomedicine. 2014; 4(1):1-14.
Forester SC, Lambert JD. Antioxidant effects of green tea. Molecular nutrition & food research. 2011; 55(6):844-854.
Khan N, Mukhtar H. Cancer and metastasis: prevention and treatment by green tea. Cancer metastasis reviews. 2010; 29(3):435-445.
Taylor PW, Hamilton-Miller JMT, Stapleton PD. Antimicrobial properties of green tea catechins. Food science and technology bulletin. 2005; 2: 71-81.
Zhang J, Zhou G.Green tea consumption: an alternative approach to managing oral lichen planus. Inflamm Res. 2012 Jun;61(6):535-9.
Hirasawa  M,  Takada  K.  Multiple  effects  of  green  tea  catechin  on  the  antifungal  activity  of  antimycotics against Candida albicans. J. Antimicrob. Chemother. 2004;53 (2): 225-:22.
Chacko  SM, Thambi PT, Kuttan  R, Nishigaki I.  Beneficial effects of green  tea:  A literature  review. Chinese Medicine. 2010; 5:13.
D. P. Mohapatra, V. Thakur, and S. K. Brar, "Antibacterial Efficacy of Raw and Processed Honey," Biotechnology Research International, 2011, Article ID 917505, 6 pages, 2011. doi:10.4061/2011/91750.
El-Haddad and Maysara D. Al-Shawaf Effect of honey for treatment of some common oral lesions: Follow up of 50 casesJ. Dent. Oral Hyg.2013. 5(6):55-61.
Santos et al.  Efficacy of Brazilian propolis gel for the management of denture stomatitis: a pilot study. Phytother Res. 2008; 22(11):1544-7.
Gribel NV, Pashinskii VG: The antitumor properties of honey. Vopr Onkol. 1990, 36 (6): 704 -709.
Wang XH, Andrae L, Engeseth NJ: Antimutagenic effect of various honeys and sugars against Trp -p-1. J AgricFood Chem. 2002, 50 (23): 6923-6928.
Orsolic N, Terzic S, S L, Basic I: Honey-bee products in prevention and/or therapy of murine transplantable tumours. J Sci Food Agric. 2005, 85: 363-370.
Mathew  B,   Sankaranarayanan   R,   Nair   PP,  Varghese  C,   Somanathan   T,   AmmaBP, et   al.   Evaluation   of chemoprevention of oral cancer with Spirulina fusiformis. Nutr Cancer 1995; 24:197-202.
Deng      R,       Chow      T-J.       Hypolipidemic,      Antioxidant       and       Antiinflammatory      Activities      of Microalgae Spirulina. Cardiovascular therapeutics. 2010; 28(4):e33-e45.
Revant  C,Ranjit  P.Clinical  improvement  in  oral  submucous  fibrosis  with  Spirulina,  a  newer  drug.  j  oral sign.2013,5(2):61-64.
Mathew  B  et  al.  Evaluation  of  chemoprevention  of  oral  cancer  with spirulina  fusiformis.  Nutr  Cancer. 1995; 24(2):197-202.
Mousavi F, Sherafati S, Mojaver YN. Ignatia in the treatment of oral lichen planus. Homeopathy. 2009 Jan; 98(1):40-4

...

Less