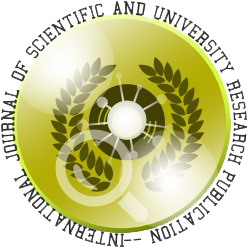 A STUDY ON CUSTOMER PREFERENCES TOWARDS VASAN EYE CARE, THANJAVUR
Authore(s) : H.MOHAMED AMEEN || Final year MBAPeriyar Maniammai Universityanjavur.
Volume : (3), Issue : 211, January - 2019
Abstract :
A study of the customer satisfaction towards at vacant eye care hospital is an process which is very useful to monitor the current status about the public image of the vacant eye care hospitals, Here the survey report should  examine the results about customer satisfaction on the eye care services around the anjavur city, because the new inline services obviously makes  only for surrounding people who are living nearer to Vacant Eye care located area.  e customer satisfaction is one the major key point to develop  their business and sales growth sufficiently; also it's a better idea to understand the current status of vacant eye care hospitals and its activities. Actually the survey about the customer satisfaction level is about identifying the customer needs and understanding their sense depending upon our services. Most of the terms about customer satisfaction survey plan identifies the customer needs to elaborate Vasan eye care service oriented plans as much better from the current level. Also the customer satisfaction analysis is useful to focus on competitor's activities to develop our public image effectively compare with others.   e project  study aims at understand the customer satisfaction about our eye care services. e tools used for analysis of this research are simple percentage analysis and Chi-square test .By important the study report gives a moral support to updates the current status of vacant eye care internal activities towards the promotion and development.
Keywords :
Customer Satisfaction, Vacant Eye Care, Medical Accessories.
Cite This Article:
TOWARDS VASAN EYE CARE, THANJAVUR
Vol.I (3), Issue.I 211
Article No : 10034
Number of Downloads : 103
References :

Oliver, R.L. (1981), "Measurement and evaluation of satisfaction processes in retail settings", Journal of Retailing, Vol.75, pp.25.48. Berry, L.L. and Parasuraman, A. (1991), Marketing Services: Competing through Quality. e Free Press, New York, NY: p.31. Oliver (1999). Satisfaction: A Behavioral Perspective on the Consumer. Boston: McGraw-Hill. Cited in Willard Hom (2000), An Overview of Customer Satisfaction Models, RP...

More

Oliver, R.L. (1981), "Measurement and evaluation of satisfaction processes in retail settings", Journal of Retailing, Vol.75, pp.25.48.
Berry, L.L. and Parasuraman, A. (1991), Marketing Services: Competing through Quality. e Free Press, New York, NY: p.31.
Oliver (1999). Satisfaction: A Behavioral Perspective on the Consumer. Boston: McGraw-Hill. Cited in Willard Hom (2000), An Overview of Customer Satisfaction Models, RP Group Proceedings, California Community Colleges. P.101.
Schiffman, L.G. and Kanuk, L.L. (2004), Consumer Behaviour. Prentice Hall, Upper Saddle River, NJ.
.O'Fallon, M.J., and Rutherford, D.G. (2010). Hotel Management and Operations. New York: John Wiley and Sonsp.173.

...

Less