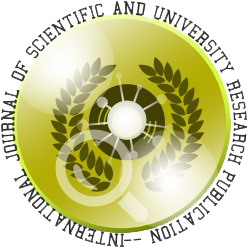 A Study on Low Quality Fly Ash as an Opportunity for Sustainable and Economical Concrete
Authore(s) : Jayeshkumar Pitroda || Assistant Professor & Research ScholarCivil Engineering DepartmentB.V.M.Enggineering CollegeVallabh vidhyanagar-Gujarat-India.
Volume : (3), Issue : 211, January - 2019
Abstract :

As concrete usually has been produced by using high quality fly ash and without fly ash (standard concrete).
Keywords :
Fly ash, low quality, utilization, concrete.
Cite This Article:
A Study on Low Quality Fly Ash as an Opportunity
Vol.I (3), Issue.I 211
Article No : 10007
Number of Downloads : 104
References :

   Aires Camões, Patrício Rocha, J.C. Pereira, J.B. de Aguiar, Said Jalali "Low cost high performance concrete using low quality fly ash." |  F. De Larrard, High-Performance Concrete: From the Laboratory to Practical Utilization,Concrete Technology: New Trends, Industrial Applications, E&FN Spon, Barcelona, November 1994.  Jalali S., Modelling the Overall Rate of Reaction in Lime-Fly Ash Systems, Proceedings of the 10th...

More

   Aires Camões, Patrício Rocha, J.C. Pereira, J.B. de Aguiar, Said Jalali "Low cost high performance concrete using low quality fly ash." |
 F. De Larrard, High-Performance Concrete: From the Laboratory to Practical Utilization,Concrete Technology: New Trends, Industrial Applications, E&FN Spon, Barcelona, November 1994.
 Jalali S., Modelling the Overall Rate of Reaction in Lime-Fly Ash Systems, Proceedings of the 10th International Congress on the Chemistry of Cement, Vol. 3, pp 3ii084, Gothenburg, Sweden, June 2-6, 1997. |
 Karthik H. Obla, Ph.D., P.E. by "Specifying Fly Ash for Use in Concrete." |
Luping T., Chloride Transport in Concrete - Measurement and Prediction, PhD Thesis, Chalmers University of Technology, Gotenborg, Sweden 1996. |
Linhua Jiang, Zhenqing Liu, Yiqun Ye "Durability of concrete incorporating large volumes of low-quality fly ash" |
 Depart- ment of Materials Science and Engineering, Hohai University, Nanjing 210098, People's Republic of China Received 8 August 2003; accepted 30 December 2003 |
 F. Canovas, P.A. Gutierrez, Composicion y Dosificacion de los Hormigones de Alta Resistencias y sus Aplicaciones, Cemento-Hormigon, Numero 709, Agosto 1992. |
Malaviya S K, Chatterjee B and Singh K K (1999), "Fly Ash- an emerg- ing alternative building material", proceedings of National Seminar, 26-27 February 1999, pp. 59. |
NTPC Ltd. "Fly Ash For Cement Concrete Resource For High Strength and Durability of Structures at Lower Cost" |
Patel I N, Bhatt Rajiv and Bhatt Darshana,(2008) "Fly ash: A Green construction material and use of FAL-G Bricks in institution structures - A Case Study", Journal of Engineering and Technology S P University, December 2006, Vol 19, pp. 23-34. |
 P.A. Gutierrez, M.F. Canovas, High-Performance Concrete: Require- ments for Constituent Materials and Mix Proportioning, ACI Materials Journal, Vol. 93, N.3, May-June 1996. |
 Prof. Jayesh R Pitroda, Thesis, "Techno-Economical Study Of Fal-G Bricks In Central Gujarat Region Of India" , S.P. University Vidyanagar, Gujarat, June 2009 |
 R.N. Swamy, Fly Ash and Slag: Standards and Specifications - Help or Hindrance?, Materials and Structures, Vol. 26, 1993. [7] Roy H. Keck, Eugene H. Riggs, Specifying Fly Ash for Durable Concrete, Concrete International, April 1997. [8] J. Faury, Le Beton, Editions Dunod, Paris, 1958 |
 Rajiv Sinha, "Extract from paper "Technology: Fly ash Disposal and Utilization: The Indian Scenario" , Department of Civil Engineering, IIT Kanpur |
State-of-the-Art Report on High Strength Concrete, Reported by Committee 363, American Concrete Institute, 1992. |
 Suresh Chandra Pattanaik, Dr. Akshaya Kumar Sabat "A study of nalco fly ash on compressive strength for effective use in high volume mass concrete for a sustainable development" by, KIIT university, Bhubaneswar-751024,Orissa 3rd & 4th Septem- ber, 2010 |
 Ujjwal Bhattacharjee, Tara Chandra Kandpal, "Potential of fly ash utilisation in India" Centre for Energy Studies, Indian Institute of Technology Delhi, Hauz Khas, New Delhi 110 016, India Received 12 June 2000 |
 V.M. Malhotra, A.A. Ramezanianpour, Fly Ash in Concrete, 2nd Edition, Canmet, Ottawa, Canada, 1994. |
Yash Shrivastava and Ketan Bajaj, "Performance of Fly Ash and High Volume Fly Ash Concrete in Pavement Design" UG Student, University of Petroleum and Energy Studies,Dehradun, IACSIT 2012 |

...

Less