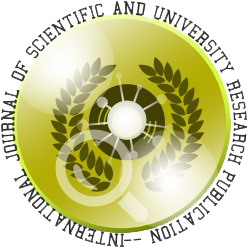 A STUDY TO IDENTIFY THE EXPECTATION AND PERCEPTION BETWEEN FORD AND NISSAN, PASSENGER CAR BUYERS IN THANJAVUR DISTRICT
Authore(s) : Dr.K.V.R.RAJANDRAN || Associate ProfessorDepartment of management studiesPeriyar Maniammai Universityanjavur.
Volume : (3), Issue : 211, January - 2019
Abstract :
is
paper is a study on the comparative analysis between Ford and Nissan Passenger car at anjavur. e main reason to do this study is to understand which car brands the people of Tanjore prefer based on various features and factors provided two leading automobile companies Ford & Nissan. e Comparative Study between Ford, Nissan passenger car. e Project report entitled "Comparative Study between Ford & Nissan passenger car with special Reference to Lakshmi Ford in anjavur District". e study starts with an introduction of the Comparative Study, Review of literature; objectives are set out for the study. Research methodology, date analysis and interpretation finding and suggestions on the study follow. e response given by 76 customers were analyzed and interpreted using Percentage Analysis.
Keywords :
Comparative study, Comparative study between cars, Automobile Industry, Ford, Nissan.
Cite This Article:
NISSAN, PASSENGER CAR BUYERS IN THANJAVUR DISTRICT
Vol.I (3), Issue.I 211
Article No : 10040
Number of Downloads : 101
References :
http://airccse.org/journal/ijci/papers/2413ijci02.pdf | http://www.environment.ucla.edu/media/files/BatteryElectricVehicleLCA2012-rh-ptd.pdf