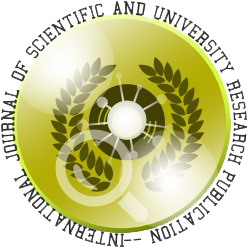 E-COMMERCE AND IT IMPACTS ON GLOBAL TREND AND MARKET
Authore(s) : Shahrzad Shahriari || University College of Commerce &Business Management Osmania UniversityHyderabadINDIA.
Volume : (13), Issue : 205, January - 2019
Abstract :
Many economists and experts believe that in recent years, a revolution has occurred similar to the industrial revolution which the world has entered the information age.  It makes large changes in the economic, social and cultural aspects.  One aspect of this transformation is changes in economic relations between individuals, corporations and governments. Commercial  exchange  between  people  who  had  been  based  on  paper  documents  to transactions of by us the systems based on electronic information. In this article we will discuss the benefits of e-commerce and its impact on the market.
Keywords :E-Commerce, advantage, needs, global, impact.
Cite This Article:
IT IMPACTS ON GLOBAL TREND
Vol.I (13), Issue.I 205
Article No : 10040
Number of Downloads : 118
References :

Gunasekaran,  A.,  et  al.  "E-commerce  and  its  impact  on  operations  management." International journal of production economics 75.1 (2002): 185-197. Subramani, Mani, and Eric Walden. "The impact of e-commerce announcements on the market value of firms." Information Systems Research 12.2 (2001): 135-154.  Schafer,  J.  Ben,  Joseph  A.  Konstan,  and  John Riedl.  "E-commerce recommendation applications."...

More

Gunasekaran,  A.,  et  al.  "E-commerce  and  its  impact  on  operations  management." International journal of production economics 75.1 (2002): 185-197.
Subramani, Mani, and Eric Walden. "The impact of e-commerce announcements on the market value of firms." Information Systems Research 12.2 (2001): 135-154.
 Schafer,  J.  Ben,  Joseph  A.  Konstan,  and  John Riedl.  "E-commerce recommendation applications." Applications of Data Mining to Electronic Commerce. Springer US, 2001.115-153.
 Daniel, Elizabeth, and Hugh Wilson. "Adoption intentions and benefits realized: a study of e-commerce in UK SMEs." Journal of Small Business and Enterprise Development 9.4 (2002): 331-348.
 Eastin, Matthew S. "Diffusion of e-commerce: an analysis of the adoption of four e- commerce activities." Telematics and informatics 19.3 (2002): 251-267.
 Drew,  Stephen.  "Strategic  uses  of  e-commerce  by  SMEs  in  the  east  of  England." European Management Journal 21.1 (2003): 79-88.
 Gibbs,  Jennifer,  Kenneth  L.  Kraemer,  and  Jason  Dedrick.  "Environment  and  policy factors shaping global e-commerce diffusion: A cross-country comparison." The information society 19.1 (2003): 5-18.
Wong,  Poh-Kam.  "Global  and  national  factors  affecting  e-commerce  diffusion  in Singapore." The Information Society 19.1 (2003): 19-32.

...

Less