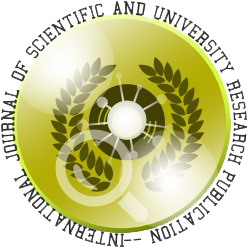 Economic, social, and environmental sustainability in development theory and urban planning practice
Authore(s) : A. D. BASIAGO || Andrew Basiago an American lawyerholds two advanced degrees in environmental planning.
Volume : (13), Issue : 205, January - 2019
Abstract :
 In  ten  years,  more  than  half  the  world's population will be  living in  cities.  The  United Nations ŽUN. has stated  that  this will threaten cities with social conflict, environmental degradation and the collapse  of basic  services.  The  economic,  social, and  environmental planning  practices  of societies embodying 'urban sustainability' have been proposed  as antidotes to these  negative urban  trends.  'Urban sustainability'  is  a  doctrine   with  diverse  origins.  The  author   believes  that  the  alternative  models  of cultural  development in Curitiba,  Brazil, Kerala,  India,  and Nayarit, Mexico embody the integration and interlinkage of economic,  social, and  environmental sustainability.  Curitiba  has  become  a more  livable city by building an efficient  intraurban bus system, expanding  urban  green  space, and meeting  the basic needs   of  the   urban   poor.  Kerala   has  attained  social  harmony   by emphasizing   equitable   resource distribution rather   than  consumption, by restraining   reproduction, and  by attacking  divisions of race, caste, religion, and gender.  Nayarit  has sought to balance  development with the environment by framing a  nature-friendly  development plan  that  protects   natural   systems  from  urban   development and  that involves  the  public  in  the  development process.  A detailed mexamination   of  these  alternative  cultural development models  reveals  a myriad of possible  means  by which economic,  social, and  environmental sustainability  might be advanced  in practice.  The  author  concludes  that  while these  examples  from the developing  world cannot  be  directly  translated to  cities  in the  developed  world, they  do  indicate  in a general  sense the imaginative policies that  any society must foster if it is to achieve 'urban sustainability'.
Keywords :
Economic, social,  environmental sustainability , development ,  urban planning practice.
Cite This Article:
Environmental sustainability in development theory
Vol.I (13), Issue.I 205
Article No : 10051
Number of Downloads : 108
References :

Alexander,  W. M. Ž1994..  Humans  sharing  the  bounty  of the Earth:   hopeful   lessons  from  Kerala.   Proceedings of  the International Congress on Kerala Studies, Kerala, India, Aug. 27]29, 1994. Baird,  V. Ž1993.. Paradox  in paradise:  Kerala,  India's radical success.  New Internationalist, 241, 4. Basiago,  A.  D.  Ž1994..  Sustainable   development in  tropical forest  ecosystems.  The ...

More

Alexander,  W. M. Ž1994..  Humans  sharing  the  bounty  of the Earth:   hopeful   lessons  from  Kerala.   Proceedings of  the International Congress on Kerala Studies, Kerala, India, Aug. 27]29, 1994.
Baird,  V. Ž1993.. Paradox  in paradise:  Kerala,  India's radical success.  New Internationalist, 241, 4.
Basiago,  A.  D.  Ž1994..  Sustainable   development in  tropical forest  ecosystems.  The  International Journal of Sustainable De¨ elopment and World Ecology, 1Ž1., 34]40.
Basiago,  A.  D.  Ž1995..  Methods   of  defining  'sustainability'. Sustainable De¨ elopment, 3Ž3., 109]119.
Basiago,  A. D. Ž1996..  The  search  for the  sustainable  city in 20th  century   urban   planning.   The  En¨ ironmentalist,  16,135]155.
Boyle, A. Ž1995.. Human  rights  approaches to environmental protection: unnecessary,   undesirable  and  unethical? Re- marks  delivered  at the  Research Centre  for International Law, University  of Cambridge,  Febr.  17.
Calthorpe,  P.,  Corbett,   M.,  Duany,   A.,  Moule,   E.,  Plater- Zyberk,  E., Polyzoides, S. Ž1991.. Ahwahnee  Principles  for Resource-Efficient  Communities. Sacramento, CA:  Local Government Commission,  1]2.
Daly, H. E. Žed. Ž1973.. Towards a Steady State Economy.  San Francisco:  Freeman.
Daly,  H.  E.  Žed.  Ž1974..  The  economics  of the  steady  state.American Economic Re¨ iew, May, 15]21.
Daly, H. E. Ž1991.. Steady-State Economics.  Washington, DC: Island  Press, 180.
Dixon, J. and Fallon,  L. A. Ž1989.. The Concept of Sustainability: Origins, Extensions and  Usefulness for Policy. Environment   Division  Working  Paper   No.  1.  Washington, DC:
Kahn, M. Ž1995.. Concepts, definitions, and key issues in sustainable  development: the  outlook  for the  future.   Proceedings of the 1995 International Sustainable De¨ elopment Research  Conference,  Manchester,  England,  Mar.  27]28,1995, Keynote  Paper,  2-13.
Keating,  M.  Ž1993..  The  Earth  Summit's  agenda for  change.Geneva:  Centre  for  Our  Common  Future,  viii, x, 12]13, 63]67.
Kepp,  M. Ž1992..  Curitiba's  creative  solutions:  learning  from Lerner.  Choices, 1: 22]26.
Krier,  J. E.  and  Gillette,  C. P. Ž1985.. The  uneasy  case  for technological  optimism.  Michigan Law Re¨ iew, 405.
Los  Angeles Times. Ž1996..  Big growth  in cities  projected  for 2006 May 30.
Lyle, J. T. Ž1994..  Regenerati¨ e design for sustainable de¨ elopment. New York: John  Wiley & Sons, Inc. Margolis,  M.  Ž1992..  A  third-world   city  that   works.  World Monitor, 5, 42]46.
McDonough, W. Ž1992.. The Hannover Principles.  New York: Self-Published,  1]2.
Moore,  C. A. Ž1994.. Greenest city in the  world! International Wildlife, 24, 38]43.
Murphy,  R.  C.  Ž1992.. Responsible coastal  management  for the  State  of  Nayarit,  Mexico.  Calypso Log,  4,  6  Chesa- peake,  VA: The Cousteau  Society, Inc.
Pearce,  D. W. and Redclift, M. Žeds. Ž1988.. Sustainable development. Futures, 20 ŽSpecial Issue..
Pearce,  D. W., Barbier,  E.  and  Markandya,  A. Ž1990a.. Sustainable De¨ elopment:  Economics  and  En¨ ironment  in  the Third World. Aldershot:  Elgar. World Bank.
Pearce,   D.   W.,  Markyanda,   A.  and   Barbier,   A. Ž1990b..Eblen,   R.  and   Eblen,   R.  Ž1994..  The  Encyclopedia  of  the En¨ ironment.   New   York:   Houghton  Mifflin   Company, 432]433.
Editors   of  the   Ecologist.   Ž1972..   A  Blueprint  for  Sur¨ i¨ al. Harmondsworth: Penguin  Books Ltd., 15]29.
Ewers,  H.  and  Nijkamp,  P.  Ž1990.. Urban   sustainability.   In: Nijkamp,  P.  Žed.,  Urban  Sustainability.  Avebury:  Gower, 8]10.
FoE  Ž1994..  Planning for the  planet: sustainable de¨ elopment policies for local and strategic plans. London:  Friends  of the Earth,  10.
Franke,   R.  and  Chasin,  B.  Ž1989..  Kerala: radical reform as de¨ elopment in an Indian State. San Francisco:  Institute for Food and Development Policy.
Freeman, C. Ž1973.. Malthus  with a computer. Futures, Feb., 5. Girardet, H. Ž1990.. The metabolism  of cities. In: Cadman,  D. and  Payne,  G.  Žeds.  Ž1990..  The  Li¨ ing City: Towards  a Sustainable Future London:  Routledge.
Girardet, H. Ž1992.. Cities: New directions for sustainable urban li¨ ing. ŽLondon: Gaia  Books., 23.
Goodland, R.  Ž1995..  Environmental sustainability:  universal and rigorous.  Sustainable De¨ elopment, Žunder review.. Goodstein, C.  Ž1992..  From  Curitiba   to  the  world.  E:  The En¨ ironmental Magazine, 3, 10]11. Blueprint for a Green Economy.  London:  Earthscan.
Ratcliffe,  J. Ž1978.. Social justice and the  demographic transition:  lessons  from India's Kerala  state.  International Journal of Health Ser¨ ices, 8Ž1..
Repetto, R. Ž1992.. Accounting  for environmental assets.  Scientific American, June,  94]100.
Rifkin,  J. Ž1994.. The End of Work. New York: G. P. Putnam & Sons.
Ruttan, V. W. Ž1991.. Sustainable  growth in agricultural  production:  poverty,  policy  and  science.  Unpublished paper prepared for International Food Policy Research Institute Seminar    on   Agricultural    Sustainability,    Growth,    and Poverty Alleviation,  Feldafing,  Germany,  Sept. 23]27.
Serageldin,  I. Ž1993..  De¨ elopmental Partners: Aid and Cooperation in the 1990's. ŽStockholm: SIDA..
Wirth,  T. E. Ž1994.. Sustainable  development: a progress  report. Remarks  delivered  at the National  Press Club, Wash- ington, DC July 12.
World Bank Ž1986..  En¨ ironmental Aspects of Bank Work. The World  Bank  Operations Manual   Statements, OMS  2.36. Washington, DC: World Bank.
WCED  Ž1987.. Our Common  Future. World  Commission  on Environment and Development. Oxford: Oxford University Press.

...

Less