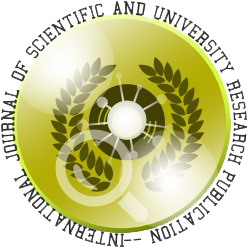 Is e-voting a possibility for Botswana's 2014 general elections?
Authore(s) : Dorothy Mpabanga || Senior LecturerDepartment of Political and Administrative StudiesUniversity of Botswana. Email: mpabanga@mopipi.ub.bw.
Volume : (13), Issue : 205, January - 2019
Abstract :
This paper explores the possibility of using electronic voting in the 2014 general elections in Botswana. Electronic voting has a variety of benefits, including faster electoral processes in terms of voter registration, casting and counting of votes and, in terms of releasing the election results. The application of ICT in the electoral process is gaining momentum in developed countries because of the benefits associated with it. The paper explores the possibility of using this technology in the 2014 general considering the ICT infrastructure, strategies, policies and facilities available in Botswana. Data were collected from various stakeholders, including the Independent Electoral Commission, political parties and secondary sources. The findings suggest that although Botswana has the requisite infrastructure to support evoting, e-voting would not be possible in the 2014 elections due to a number of factors such as lack of a legal framework that supports e-voting, long consultation processes and lack of access to computers and the internet by the majority of the electorate. E-voting is thus a dream for Botswana, but one which may become a reality in the near future.
Keywords :
Electronic voting, ICT, elections, voter apathy, electoral process, electoral law, ICT infrastructure and policies.
Cite This Article:
a possibility for Botswana's 2014 general
Vol.I (13), Issue.I 205
Article No : 10034
Number of Downloads : 102
References :

Bhattacharya, S. (2004). EVM's fall short, early polls to blame. The Indian Express, March 4, 2004.http://www.indiaexpress.com/ fullstrory.php?Contentid=42325, Accessed on 24 October 2012. Bishop, M. and Wagner, D. (2007). Risks of E-Voting. Communication of the ACM, 5(11), 120-120. Dictson, D. and Ray, D. (2000). Modern democratic revolution: An objective strategy survey of Internet-based elections, http://www....

More

Bhattacharya, S. (2004). EVM's fall short, early polls to blame. The Indian Express, March 4, 2004.http://www.indiaexpress.com/ fullstrory.php?Contentid=42325, Accessed on 24 October 2012.
Bishop, M. and Wagner, D. (2007). Risks of E-Voting. Communication of the ACM, 5(11), 120-120.
Dictson, D. and Ray, D. (2000). Modern democratic revolution: An objective strategy survey of Internet-based elections, http://www. securepoll.com/VotingPaper.doc Accessed 23 October 2012.
Fairweather, B. (2003) The Register, Theregister.co.uk/2003/07/31/ uk_evoting_pilots_deeply_flawedVerifiedVoting.Org, http:// www.verifiedvoting.org, VerifiedVoting.Org Main Page Accessed on 23 October 2012.
Farivar, C. (2012). Internet-based and open source: how e-voting works around the globe. http://arstechnica.com/features, Accessed on 5 November, 2012.
Fessenden, F (2000). Counting the vote after cards are poked: The Confetti can count, The New York Times 1 November 2000. International Institute for Democracy and Electoral Assistance (IDEA)(2011). Introducing electronic voting: Essential considerations,Policy Paper.
Kitcat, J. (2004). 'Modernity at what costs?' Submission to the Irish Independent Commission on electronic voting and counting at elections,        http://www.free-project.org/files/irish_commission_ submission.pdf Accessed on 23 October 2012.
Lee, T. (2012). Paper prophets: why e-voting is on the decline in the United dStates. http://arstechnica.com/features    Accessed on 23 October, 2012.
Mpabanga, D., Mpoeleng, D. and Mokhawa, G. (2006). An assessment of e-skills, ICT policies, strategies and infrastructure in the public service in Botswana. In P. Cunningham, and A. Cunningham (eds.), Exploring the Knowledge Economy: Issues, Applications, Case Studies. Volume 3. Part 1. (652-666). Amsterdam: IOS Press.
Ramachandran, R. (2004). Tried, but not tested?' Frontline, 21(4), n.p. The   Register,   'UK   e-voting   pilots   deeply   flawed'  Theregister. co.uk/2003/07/31/uk_e-voting_pilots_deeply_flawed,    Accessed on 23 October 2012.
Vollan, K. (2005). Observing electronic voting: A Report prepared for the Norwegian Centre for Human Rights, Report 15/2005.
Wand, J.N., Shotts, K.W., Sekhon, J.S., Mebane, W.R., Herron, M.C. and Brady, H.E (2001). The butterfly did it: The aberrant vote for Buchanan in Pam Beach County, Florida. American Political Science Review, 95(4), 793-810.

...

Less