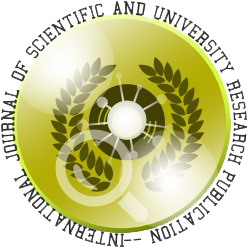 Social Media with its Role in Supporting E-Commerce and its Challenges
Authore(s) : Maysa Ibrahiem Yousef || Information Science DepartmentKing Abdulaziz UniversityJeddahSaudi Arabia miyj0500@yahoo.com.
Volume : (13), Issue : 205, January - 2019
Abstract :

This  study  sheds  light  on the  role played  by social media in supporting e-commerce and the major challenges facing this  important technology,  given  that  it  is  widely  used  in  the present.  In   addition,   this   technology   is  distinguished  by   its usability  and the users' ability  to find what  they want  in a short period. Facebook and Twitter are the most popular social media, as they help users communicate with thousands of people around the world in seconds. The  number of people  using  the  social  media  in trade and promotional operations reached almost  2 billion,  which  reflects the importance of this technology. Despite the several advantages of the social media,  it has several negatives  in e-commerce, as it lacks  control, exposing  users to risks. These  websites  may  also lead  to lack of privacy in selling and  purchasing, in addition  to having other social negatives. The  study  was based  on the  SWOT  analysis  to identify  the role of the different social media  and  which is more suitable  for the  different trade  transactions. The  study  showed  that  the  e- commerce is different from the  traditional one in terms of the standards  of   related  parties.  Thus,   the   related  parties  use different ways of selecting their suitable  social media. They study recommended paying more attention to the impact of social networking on the  marketing and  promotional information for companies and businesses.
Keywords :
component; Social Media networks; Social networks; Social Media; E-commerce; E-commerce community.
Cite This Article:
Supporting E-Commerce and its Challenges
Vol.I (13), Issue.I 205
Article No : 10042
Number of Downloads : 105
References :

 Zhang, J. , E-Commerce Advertising in Social Networking Sites and Implication  for  Social  Commerce.  Access  date:  (10,  Nov,  2016). Available at: http://www.pacis-net.org/file/2015/2977.pdf. Team FME. , "Swot  Analysis Strategy skills". Access date: (6, Feb,2016).  Available  at:   http://www.free-management-ebooks.com/dldebk- pdf/fme-swot-analysis.pdf.  Young, K. , The Effects of Social Media on E-Commerce: A...

More

 Zhang, J. , E-Commerce Advertising in Social Networking Sites and Implication  for  Social  Commerce.  Access  date:  (10,  Nov,  2016). Available at: http://www.pacis-net.org/file/2015/2977.pdf.
Team FME. , "Swot  Analysis Strategy skills". Access date: (6, Feb,2016).  Available  at:   http://www.free-management-ebooks.com/dldebk- pdf/fme-swot-analysis.pdf.
 Young, K. , The Effects of Social Media on E-Commerce: A Perspective of Social Impact Theory. Access date: (10, Nov, 2016). Available at:https://www.researchgate.net/publication/232656460_The_Effects_of_So cial_Media_on_E- Commerce_A_Perspective_of_Social_Impact_Theory_PDF.
Qiao, Y. ,   Social networks and E-commerce. Access date: (10, Nov,2016). Available  at: http://cse.tkk.fi/en/publications/B/1/papers/Qiao_final.pdf.
 Lee, c., Fung, S.,. Online Social Networks and E-Commerce. Access date: (10, Nov, 2016). Available at:https://groups.csail.mit.edu/mac/classes/6.805/student-papers/fall07- papers/social-networks.pdf.
 Swamynathan, G., Wilson, C., Boe, B., Almeroth, K., & Zhao, Y. Do Social  Networks  Improve  E-Commerce?  A  Study  on  Social Marketplaces. Access date: (10, Nov, 2016). Available at:http://conferences.sigcomm.org/sigcomm/2008/workshops/wosn/papers/p1.pdf.
Linda,  Sauling.  Social  Commerce  - E-Commerce  in  Social  Media Context. Access date: (13, Nov, 2016). Available at:http://waset.org/publications/2123/social-commerce-e-commerce-in- social-media-context.
 Xu,  Y.,  Ma,  J., Sun, Y.,  Hao,  J., Zhao,  Y.  ,  Using Social Network Analysis as a Strategy for E-Commerce Recommendation. Pacifc Asia Conference on Information system. Access date: (14, Nov, 2016). Available at:http://www.pacis-net.org/file/2009/[105]USING%20SOCIAL%20NETWORK%20ANALY SIS%20AS%20A%20STRATEGY%20FOR%20E- COMMERCE%20RECOMMENDATION.pdf.
Sun, Z., Firmin, S., Yearwood,  Integrating Online Social Networks with E-Commerce: A CBR Approach. 23th  Australian Conference on Information system. Access date: (14, Nov, 2016). Available at:https://dro.deakin.edu.au/eserv/DU:30049134/sun-integratingonline-2012.pdf.
 Bhattacharya, R. ,  Social Commerce: The transformation of eCommerce with Social Computing. Access date: (14, Nov, 2016). Available at: http://www.happiestminds.com/whitepapers/social_commerce.pdf.

...

Less