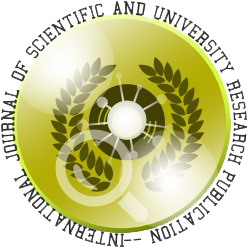 TECHNOLOGY AS A CATALYST IN TEACHING AND LEARNING
Authore(s) : Mrs. A. VIJAYALAKSHMI-Dr. VVN RAJENDRA PRASAD-Dr. V.B. CHITHRA
Volume : v(12), Issue : 11, September - 2019
Abstract :
Technology in the recent years has become a wonderful aid for teaching and learning process.
Due to pandemic we are totally encompassed by technology. This has become the need of an hour. Information and communication technology is easily accessible at any time in just second's .The scientific pursuit and logic has conveniently branched out English for communication as functional English or communication English.
Globalization and the growth of commerce due to business simplified language for communication skills.  English language has been designed   based on the purpose of the language requirements like, functional language for regular communication it is termed as soft skills for the business industry. Writing skills  like content writing for technical purpose, creative writing. This provides insight into the objective and curriculum for teaching based on the specifications required for the stake holders. Logic and technology further simplified learning of the language. English language teaching is diversified due to the range of technological tools even the class rooms are modified as smart class rooms and language labs have become a common phenomenon. Multimedia, artificial intelligence and virtual labs have created an artificial environment, which could reach the learner almost immediately within a few minutes of time. Eye catching visuals, interesting anecdotes grab the attention of the learner. Short courses with specific requirements online academic courses from the reputed universities with a flexibility of time in learning are the advanced features which cater to the needs of the people made it instantly popular.
Keywords :
Digitalization of education, short courses and changing jobs, communication language, gaps between teachers and students
Cite This Article:
TECHNOLOGY AS A CATALYST IN TEACHING AND LEARNING
Vol.I v(12), Issue.I 11
Article No : 1217
Number of Downloads : 100
References :
https://www.educationworld.in/digitalisation-of-higher-education/ https://elearningindustry.com/digitization-of-education-21st-century/amp https://www.alllanguageresources.com/courses-for-learning-english/