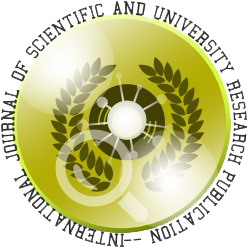 Approaches Regarding the Functional and Structural Rehabilitation of Historical Monumental Buildings
Authore(s) : Gheorghe Croitoru || Department of EngineeringLaw and Real Estate Evaluation.
Volume : (8), Issue : (6), June - 2020
Abstract :
The aim of the research is to analyze the approaches to the problems of functional and structural rehabilitation of historic monumental buildings. The research examined the possibility of changing the destination of a historic building, which involves both functional rehabilitation (rehabilitation and adaptation of thermal energy, acoustics, water repellent and fire protection) and structural rehabilitation, by replacing or partially modifying the building or, if the structural system allows, complete restoration of its parts; local structural restoration (consolidation); structural modification, by introducing adjacent or incidental construction elements, which together with the existing structure can form another structural system and even change the structural concept using the procedures that can increase strength and stability. As a result of the research, it was established that changing the destination of a building involves both functional rehabilitation, by compartmentalizing the new function, rehabilitation and thermal, energy, acoustic, water repellent adaptation and fire safety of the building undergoing reconversion, and structural rehabilitation. When protecting historical monuments, a series of principles and rules must be observed regarding the owners' interventions, the holders of the administration right, the concessionaires and the tenants.
Keywords :
Historic Buildings, Functional Rehabilitation, Architectural Heritage, Change of Destination, Structural Rehabilitation, Restoration Intervention, Performance Requirements
Cite This Article:
Approaches Regarding the Functional and Structural Rehabilitation of Historical Monumental Buildings
Vol.I (8), Issue.I (6)
Article No : 10223
Number of Downloads : 102
References :

SM EN 1998-5:2011 Eurocod 8: Proiectarea structurilor pentru rezistenta la cutremur. Partea 5: Fundatii, structuri de sustinere si aspecte geotehnice. Stanca, S.E. (2018) Contributions Regarding the Functional and Structural Rehabilitation of Old and/or Derelict Buildings. Doctoral Thesis, Cluj Napoca. SM SR ISO 6241:2010 Performance Standards in Building—Principles for Their Preparation and Factors to Be Considered. Law No. 721...

More

SM EN 1998-5:2011 Eurocod 8: Proiectarea structurilor pentru rezistenta la cutremur. Partea 5: Fundatii, structuri de sustinere si aspecte geotehnice.
Stanca, S.E. (2018) Contributions Regarding the Functional and Structural Rehabilitation of Old and/or Derelict Buildings. Doctoral Thesis, Cluj Napoca.
SM SR ISO 6241:2010 Performance Standards in Building—Principles for Their Preparation and Factors to Be Considered.
Law No. 721 of 02.02.1996 on Quality in Construction (Published in Official Monitor No. 25 art. Nr: 259).
Government Decision No. 913 of 25.07.2016 on the Approval of the Technical Regulation on the Minimum Requirements for the Marketing of Construction Products (Published in Official Monitor No.247-255/997 of 05.08.2016).
Emodi, T., Pafka, E. and Sim, D. (2010) Guide to Good Practice for the Rehabilitation of Buildings in the Historic Center. Oradea City Hall.
Law No. 163 of 09.07.2010 on the Authorization of the Execution of Construction Works (Published: 03.09.2010 in Official Monitor No. 155-158, art. 549).
Croitoru, G. (2015) Study of the State of Limestone Masonry Materials under the Influence of Aggressive Environments. Materials of the Third International Scientific and Practical Conference, Byelorussia, Minsk, 1-2 December 2015, 100-105.
Croitoru, G. (2014) The Influence of Some Environmental Factors on the Historical Monuments of the Republic of Moldova. Bulletin, Incercom, Chisinau, 88-96.
Law No. 128 of 11.07.2014 on the Energy Performance of Buildings (Published: 10.10.2014 in Official Monitor No. 297-309, art. Nr: 609).
Law No. 1530 of 22.06.1993 on the Protection of Monuments (Published: 30.01.1994 in Official Monitor No. 1 art. 3).

...

Less