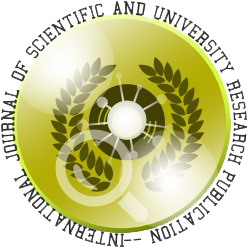 Prison Writing: A Critical Study of Sunetra Choudhury's Behind Bars
Authore(s) : Waseem Nabi ||| Reseacher
Volume : 8, Issue : 5, March - 2021
Abstract :
Behind Bars, a book by the famous journalist Sunetra Choudhury is based upon the interviews she took from the different inmates. The interviews she took from these inmates include some high profile political prisoners, businessmen, and common men. Some of the political prisoners whom she interviewed are: Amar Singh, A Raja, Pappu Yadav and Peter Mukherjee. The book narrates the story of Kobad Ghandy who was a social activist and was imprisoned due to his soft corner towards naxalites. The book Varies from the important murder case known as "Tandoor Murder Case" to the Raja who was banished. The book narrates the story of innocent prisoners who were put behind bars for petty crimes and were tortured, physically as well as mentally. It also talks about the poor conditions of Indian jail infrastructure. Thus, the book, Behind Bars, throws light upon the different aspects of prison life. It is through this book Sunetra Chaudhoury tries to highlight the Indian jail system which is still based upon class hierarchy.
Keywords :
Prison, Suffering, Hierarchy, Pain, Torture, Solitude
Cite This Article:
Literature produced in jails may be termed as prison literature.
Vol.I 8, Issue.I 5
Article No : 3-3-2021
Number of Downloads : 100
References :

From, Book Reviews, and T. H. E. Duende Editors. Book Reviews from the Duende Editors. 2021, pp. 2–5. Choudhury, Sunetra. Behind Bars. New Delhi: Lotus Collection, 2017 Choudhury, Sunetra. Behind Bars. New Delhi: Lotus Collection Int, P. R. Prison Literature – Part 1 : The Writer as Prisoner. 2021, pp. 11–14. Online, Spenser. Spenser Review. 2021, pp....

More

From, Book Reviews, and T. H. E. Duende Editors.

Book Reviews from the Duende Editors

. 2021, pp. 2–5. Choudhury, Sunetra.

Behind Bars

. New Delhi: Lotus Collection, 2017 Choudhury, Sunetra.

Behind Bars

. New Delhi: Lotus Collection Int, P. R.

Prison Literature – Part 1 : The Writer as Prisoner

. 2021, pp. 11–14. Online, Spenser.

Spenser Review

. 2021, pp. 1–8. https://ijsurp.com/wp-admin/post-new.php#:~:text=https%3A//ijsurp.com/2023/02/prison%2Dwriting%2Da%E2%80%A6urys%2Dbehind%2Dbars/ https://ijsurp.com/...

Less