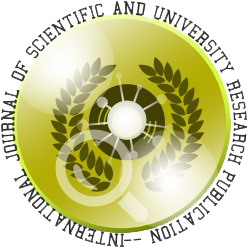 Rural Communication
Authore(s) : Dr Satish Kumar Thalladi ||| Reseacher
Volume : 9, Issue : 2, February - 2022
Abstract :

India is land of villages. Around 60% of the population lives in villages. Still, people living in villages are either illiterate or semi-literate. Rural population living in remote areas have less per capita income.  Rural publics do have worldly wisdom on par with people living in towns and  cities.  So,  they  don't believe or  accept information  received  by  them from various sources. Interpersonal communication and Group communication are more effective than mass communication in rural areas. Weekly markets play key role in remote rural areas in spreading communication. If any important information has to be spread far and wide, then weekly markets can be used effectively as a large number of public from different villages congregate at one place. Two-step flow of communication is effective in rural areas. Opinion leaders get information from mass media; they in turn would share information among the masses. Opinion leaders are trusted by masses in rural areas. So, whatever they say people blindly follow. Rural public needs communication on many aspects of their lives. Without proper communication, rural public cannot prosper or develop. Traditional media can play an important role in  communicating development and welfare messages in rural areas. The Bureau of outreach and communication disseminates information pertaining to Government welfare  and  development  programmes.  It  was  formed  after  merging  Song  and  Drama Division,  DAVP  and  DFP.  Rural  communication  principles  have  to  be  followed  in developing content for rural masses to accept. Rural public's attitude, values, socio-economic background, political understanding and culture has to be studied thoroughly to communicate to them successfully.
Keywords :Opinion leaders, Two-Step flow of communication, Interpersonal communication, Group communication, Mass Media, Traditional Media and Bureau of Outreach and Communication.
Cite This Article:
Rural communication is an exchange of information, knowledge and skills among the rural public through mass media, ICT, traditional folk media and interpersonal communication.
Vol.I 9, Issue.I 2
Article No :
Number of Downloads : 101
References :

Aboyade, B.O. (1987). The Provision of Information for Rural Development. Ibadan: Fountain Publications. Apte, M.  (1978).  Traditional  Forms  of  Mass  Media  in  Maharashtra.  Mass  Culture Language and Art in India, Bombay:Popular Prakashan Private Ltd. Dale, Edgar., and Haboan. (1963). "Audio-Visual Methods in Teaching "(IIIrd Ed.). The Dryden press Inc. 4.Dey, P.K. (1993). Perspectives in Mass...

More

Aboyade, B.O. (1987). The Provision of Information for Rural Development. Ibadan: Fountain Publications.
Apte, M.  (1978).  Traditional  Forms  of  Mass  Media  in  Maharashtra.  Mass  Culture

Language and Art in India, Bombay:Popular Prakashan Private Ltd.

Dale, Edgar., and Haboan. (1963). "Audio-Visual Methods in Teaching "(IIIrd Ed.). The

Dryden press Inc. 4.Dey, P.K. (1993). Perspectives in Mass Communication. Ludhiana:Kalyani Publishers. 5.Dinampo, E.L. (1991). Utilization of Indigenous Communication Media for Agriculture and   Natural   Resources   Technology   Transfer.   Agricultural   Economics   and   Rural Sociology, Abstract, 1714:33:1. 6.Dubey,V.K., and Bishnoi, Indira.(2008). Extension Education and Communication. New Delhi: New Age International Publishers. 7.Framework for Effective Rural Communication and Development (2006). FAO, UN and GTZ (GmBH) 8.Ghurye, G.S. (1957). Caste and Class in India. Mumbai:Popular Book Deport. Klapper,J. T. (1960). The Effects of Mass Communication,Glencoe. Illiniois: Free Press. 9.Kroeber, A.L. (1948). Caste in Encyclopedia of Social Sciences, Vol.3. New York: The Macmillan Company. 10.Lazarsfeld, Paul., Berelson, Bernard., and Gaudet, Hazel., (1948). The People's Choice. New York: Columbia University Press. 11.Murthy, J.S. (1994). National Communication Policy and Folk Media for Development. Communicator, Jan. - March; 32-33. 12.Obinne, C.P. (1997). Disseminating Agricultural Information to Rural People Integrating Indigenous Knowledge and Communication. Adult Education and Development No. (48), 237-244, 5-ref. 13.Ray,  G.L.  (1996).  "Extension  Communication  and  Management".  Ludhiana:  Kalyani Publishers. 14.Ramanathan,  S.,  and  Srinivasan,  V.  (1988).  Effectiveness  of  Traditional  Media  in Agricultural  communication,  Indian  Journal  of  Extension.     Educ.  Vol.  XXIC  No. (1&2),The Macmillan Company. 15.Rogers,E.M. (1995). Diffusion of Innovation. New York: The Free Press. 16.Sasireha,   S.   (1995).   Contribution   of   Traditional   Media   in   Creating   Awareness. Communicator, July-September, pp. 29-31. 17.Saxena, R.P. (1993). Rural Communication Problems and Perspectives. Communicator, Jan.-March , pp. 22-25. 18.Singh,   K.   N.   (1989).   "Recent   Researches   in   Agricultural   Communication".   in "Communication and Indian Agriculture" edited by Ronald E. Ostman, New Delhi: Sage Publications. 19.Wang, G.H. (1988). Indigenous Communication Systems in Research and Development. Journal of Extn. Systems, 4: 2, 75-86, BLDSC, 13 ref. https://ijsurp.com/2023/02/rural-communication-2/ https://ijsurp.com/...

Less