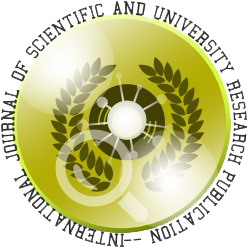 Woodrow Wilson and his Contribution to Public Administration
Authore(s) : M. SHAFI BHAT ||| Reseacher
Volume : 9, Issue : 6, June - 2022
Abstract :
Public Administration is one of the important concepts of the study of administration. Therefore, before understanding the meaning of Public Administration, it is necessary to understand the meaning of the word "Administration". The word "Administration" is derived from the Latin word "ad and ministrate" which means "to serve" or "to look after the people" or "to care for" or "to manage". Thus, literally the term administration means management of affairs- public or private. Administration is as old as the human civilization and human existence. It is the administration which controls and stabilizes the society. The whole society has been guided by the norms and values of the administration. So the society without administration is not effective. It is the administration which brings society from a set of ignorance to the brightened antiquity. The society is the best whose administration is the best. So knowledge about administration is very important for the students of Political Science.
Keywords :Faculty, Department of Public Administration Government Degree College, Tral, Jammu & Kashmir
Cite This Article:
Public Administration is to the state what a shadow is to the body.
Vol.I 9, Issue.I 6
Article No :
Number of Downloads : 101
References :

Abdul Aziz, et.al, Decentralized Governance and Planning: A Comparative Study in three Southern Indian States, Macmillan, New Delhi, 2002 A.P. Kripa and G.S. Ganesh Rao, "The Messages of Panchayati Raj", Frontline, Volume 17 - Issue 08, Apr. 15 - 28, 2000 B.K.Chandrashekar, Panchayati  Raj  in  India:  Status  Report,  1999,  Rajiv  Gandhi Foundation, Delhi 2000 Dele Olowu,   Property   Taxation  ...

More

Abdul Aziz, et.al, Decentralized Governance and Planning: A Comparative Study in three

Southern Indian States, Macmillan, New Delhi, 2002

A.P. Kripa and G.S. Ganesh Rao, "The Messages of Panchayati Raj", Frontline, Volume

17 - Issue 08, Apr. 15 - 28, 2000

B.K.Chandrashekar, Panchayati  Raj  in  India:  Status  Report,  1999,  Rajiv  Gandhi

Foundation, Delhi 2000

Dele Olowu,   Property   Taxation   and   Democratic  Decentralization   in   Developing

Countries", Institute of Social Studies, The Hague, 2004

George  Mathew,   Local   Governments   help   deepen   Democracy   in   India,   See www.issin.org
George Mathew, Panchayati Raj: From Legislature to Movement, Concept, Delhi 1994 p.78
George Mathew, Status of Panchayati Raj in the States of India, Concept, New Delhi

1995

Government of India, Report of the Committee of Members of parliament and Expert Constituted to make recommendations on the silent features of the Law for extending provisions of the Constitution (74th amendment Act 1992) to Scheduled Areas, Ministry of Urban Affairs, 1995
J.S.Sadananda, "A Note on the Theme: Local Self-Government in Karnataka" Journal of

Karnataka Studies, No. May-October 2004, pp.vi-xv

James Katorobo: Decentralization and Local Autonomy For Participatory Democracy, paper presented in 6th Global Forum on Reinventing Government Towards Participatory and Transparent Governance, 24-27 May 2005 Seoul, Korea, 2004, p.1-11
https://ijsurp.com/2023/02/woodrow-wilson-a…c-administration/
https://ijsurp.com/

...

Less