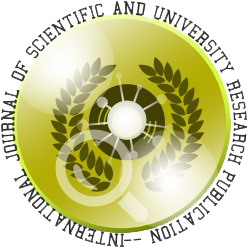 Effect of information and communication technology (ICT) on performance of micro, small and medium enterprises
Authore(s) : Adeoti Michael OlalekanUsman Baba Umar and Daramola Elizabeth Lara || Raseacher
Volume : 9, Issue : 9, September - 2022
Abstract :
Information and Communications Technology plays a central role in the economic, social and political life of every nation. Hence, this study examines the role of information and communication technology on the performance of micro, small, and medium enterprises (MSMEs) in FCT, Abuja. Participants were MSMEs owners who have spent a minimum of three years in operation. A total of 367 questionnaires were personally distributed to the participants but only
325 were returned out of which 300 copies were considered valid for analysis. The statistical
package for social sciences (SPSS) was employed for data analysis. The study found that there is a positive and significant relationship between e-business platforms and performance of MSMEs. These platforms help MSMEs to reach a wider coverage of customers in the comfort of their homes. Also, statistical result demonstrates a positive relationship between access to internet facilities and performance of MSMEs. It implies that through internet facilities, MSMEs can operate unhindered, even during pandemics. Similarly, results indicate that information and communication technology management enhances MSMEs performance. It implies that the more MSMEs embrace ICT, the better their performance would be. Also, statistical results demonstrate a positive and significant relationship between effective information system and MSMEs performance. The result suggests that effective information management enhances MSMEs performance. Therefore, this study recommends that Small and Medium Enterprises Development Agency of Nigeria (SMEDAN) and Abuja Enterprises Agency should formulate workable strategies that will encourage MSMEs owners/managers to easily embrace ICT in their business operations to enhance MSMEs performance.
Keywords : Information and communication technology, SMEs performance, return-on- investment.
Cite This Article:
The pervasiveness and  importance of  Information  and Communication Technologies (ICTs) throughout the economy and society can't be ignored.
Vol.I 9, Issue.I 9
Article No :
Number of Downloads : 100
References :

Abifarin, M. S. (2021). Information technology and development of distance education programme in Nigeria in the 21stCentury. Nigerian Journal of Educational and Scientific Research, 1(1), 27-43. Abimbade, A. (2019). Effective teaching of Mathematics and Computer education in schools. Journal of Educational Studies, 6 (3), 695- 699. Abumere,    E.,    (2015).    High    crime    rates    among    youths:  ...

More

Abifarin, M. S. (2021). Information technology and development of distance education programme in Nigeria in the 21stCentury.

Nigerian Journal of Educational and Scientific Research

, 1(1), 27-43. Abimbade, A. (2019). Effective teaching of Mathematics and Computer education in schools.

Journal of Educational Studies,

6 (3), 695- 699. Abumere,    E.,    (2015).    High    crime    rates    among    youths:    Causes    and    effects: A case study of Kaduna Metropolis.

A

B.Ed. project submitted to the department of Social Studies, Federal College of Education, Zaria. Aliyu, I., (2003). The internet: An indispensable tool to business teacher education in the 21st century

. Journal of Vocational and Technical Education.

1(1), 48-63. Aliyu, I., (2015). Business teacher education in an information technology era.

Zaria Journal of Educational Studies,

7(1 &2), 164 – 171. Annan, K., (2003). Message from United Nations Secretary-General Kofi  Annan. Bello, R. & Ajayi, O.S. (2000).

Research methods and statistical analysis.

Ilorin: Haytee Press and Publishing Company Limited. Calneck, L.R., (19-93). Interactive Computer Conferencing.

Development Communication Report

, 83, 12-29. Cornish, E. (1996).

The cyber future: 92 ways our lives will change by the 2025

. New York: The Futurist. Dauda, Y. A. & Akingbade, W. A. (2011). Technology innovation and Nigerian banks' performance: The assessment of employee's and      customer's     responses.     

American Journal of Social and Management   Sciences

, 2(3), 329-340. Emmanuel, O. S. (2011). ICT's, service delivery and operational performance       in      Nigerian banks: A survey of empirical research,

African Research Review

, 5(4), 44-59. Giagnocavo, O.G. (2016).

Educators' internet companion.

New Jersey: Prentice Hall Inc. Graynor,       A.       &       IAN,       A.       (1989).       

Information       technology       dictionary.

London: Mcgraw - Hill Book Company (UK) Ltd. https://ijsurp.com/wp-admin/post-new.php#:~:text=https%3A//ijsurp.com/2023/02/effect%2Dof%2Dinform%E2%80%A6dium%2Denterprises/...

Less