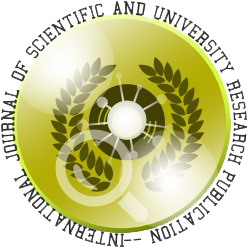 PERCEPTION OF ADOLESCENT GIRLS IN ANAMBRA STATE ON THE TEACHING OF REPRODUCTIVE HEALTH EDUCATION IN SECONDARY SCHOOLS
Authore(s) : publisher
Volume : 8, Issue : 11, November - 2022
Abstract :
This study examined perception of mid-aged adolescent girls in Anambra state on the teaching of reproductive health education in secondary schools. The study is guided by three research questions and three hypotheses. This study adopted descriptive research design. The population of this study comprised all public secondary school female students in Anambra State. The State has a total of 261 public secondary schools in all the 21 Local Government Areas. Simple random sampling technique was used to select 420 students. A 25-item questionnaire was used as instrument for data collection. The analysis of the research instrument yielded a reliability coefficient value of 0.77.Data collected were analyzed using mean score for clear presentation and comparison of various variables in each research question. T-test was used to test the hypotheses formulated for the study at 0.05 significant level. The results of the study revealed that there is a variation in the perceptions of the adolescent girls where the perceptions of the mid-aged adolescents differ from the late-aged adolescents and the senior adolescent girls' perception of senior academic level differs significantly with junior academic level students. On the other hand, there is no significant difference in the perception of those in the rural areas from the urban areas. Some mid-aged adolescents believed more that reproductive health education reduces one or more sexual behaviours that lead to unintended pregnancy, and teaching of reproductive health education is the use of condom only, and how to prevent unwanted abortion. The study recommended that government should ensure that reproductive health education should be separated from biology curriculum and ensure it is a subject of its own to help all the students in secondary schools both in junior and senior academic level to have better understanding of the subject.
Keywords :C.E. AlAGBU1, AND ENEBUWA FAVOUR NJIDECHUKWUKA2  Department Of Human Kinetics And Health Education Nnamdi Azikiwe University, Awka Anambra, State Nigeria
Cite This Article:
Introduction Education is one of the most valuable assets that adolescents require for personal growth and development.
Vol.I 8, Issue.I 11
Article No :
Number of Downloads : 100
References :

Daniel, L., Wight, P., Plummer, E., & Ross, A. (2012). Preventing teen pregnancy and academic failure: Experimental evaluation of a developmentally based approach. Child Development, 64(4), 729-742. Egbochukwu,  J.  &  Ekanem,  L.  (2017).  Cultural  bases  of  risk  behavior.  Child Development, 64, 1842-1855. Karim, A., Boyd, M., & Yin, Z. (2009) Reproductive health risk and protective factors among unmarried...

More

Daniel, L., Wight, P., Plummer, E., & Ross, A. (2012). Preventing teen pregnancy and academic failure: Experimental evaluation of a developmentally based approach.

Child Development

, 64(4), 729-742. Egbochukwu,  J.  &  Ekanem,  L.  (2017).  Cultural  bases  of  risk  behavior.  

Child Development

, 64, 1842-1855. Karim, A., Boyd, M., & Yin, Z. (2009) Reproductive health risk and protective factors among unmarried youth in Ghana.

International Family Planning Perspectives

, 29(1):14–24. Population Reference Bureau (2013) Sexuality education: a ten-country review of school curricula in East and Southern Africa. (D.-Z. Pedra, Ed.). New York: UNESCO and UNFPA. Uzohuo, A. U. (2018).

Cyberworld and adolescent sexual health education

. Awka: Nnamdi Azikiwe University. Unpublished thesis. WHO(2010).

Young person friendly health services.

Geneva. World Health Organization (WHO) (2011).

HIV/AIDS: Fact sheet

. Retrieved September 15, 2016 Speizer,  I.  S., Magnani,  R.  J.,  &  Colvin, M.  A. (2012).  The  effectiveness  of adolescent reproductive health interventions in developing countries: a review of the evidence.

Journal of Adolescent Health

, 33(5), 324-348. ...

Less