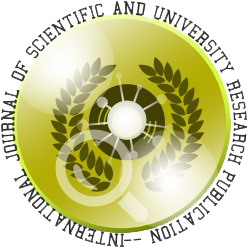 Self Esteem Impact on The Sales Executives Performance – an Empirical Study
Authore(s) : Dr. V. Narasimha Rao || Professor & Director,P.G. Department of Business AdministrationAkkineniNageswara Rao CollegeGudivada – 521301.
Volume : (3), Issue : 211, January - 2019
Abstract :
The increase in complexity of products, changing life style and ever growing competition has increased theimportance of sales executives in the marketing effort of a firm. If a company wants to maximize the effectiveness of its marketing, the sales force of a company needs to be compensated to keep its morale hig h. The motivation of sales force is a major challenge to the management. Individuals with high self esteem tend to be confident and thus act more confidently. The broad objective of this research study is to identify the impact of self-esteem on the performance of sales executive. The findings of the study confirmed the impact of self-esteem on the performance of sales executives. The self-esteem and locus of control-internal have proved to be two strong personality factors that influence the performance of the sales executives. The organizations can substantially enhance the performance of sales executives by satisfying their ego needs in which self-esteem has been a key component.
Keywords :
Self-esteem, Locus of Control, Sales Performance.
Cite This Article:
The Sales Executives Performance – an Empirical Study
Vol.I (3), Issue.I 211
Article No : 10026
Number of Downloads : 101
References :

 Ming-Hong Tsai, Shu-Cheng Steve Chi, and Hsiu-Hua Hu (2009), "Salespeople's Renqing Orientation, Self-esteem, and Selling Behaviors: An Empirical Study in Taiwan", Journal of Business and Psychology, 24(2), pp. 193-200  D. Lance Ferris, Huiwen Lian Douglas J. Brown, Fiona X. J. Pang, Lisa M. Keeping (2010), "Self-Esteem and job performance: The moderating role of self-Esteem Contingencies", Personnel Psychology, 63(1),...

More

 Ming-Hong Tsai, Shu-Cheng Steve Chi, and Hsiu-Hua Hu (2009), "Salespeople's Renqing Orientation, Self-esteem, and Selling Behaviors: An Empirical Study in Taiwan", Journal of Business and Psychology, 24(2), pp. 193-200
 D. Lance Ferris, Huiwen Lian Douglas J. Brown, Fiona X. J. Pang, Lisa M. Keeping (2010), "Self-Esteem and job performance: The moderating role of self-Esteem Contingencies", Personnel Psychology, 63(1), 561-593
 Anthony DB, Holmes JG, Wood JV. (2007). Social acceptance and self-esteem: Tuning the sociometer to interpersonal value. Journal of Personality and Social Psychology, 92, 1024–1039
Baumeister RF, Campbell JD, Krueger JI, Vohs KD. (2003). Does high self-esteem cause better performance, interpersonal success, happiness, or healthier lifestyles? Psychological Science in the Public Interest, 4, 1–44.
Brown JD. (1993). Self-esteem and self-evaluations: Feeling is believing. In Suls J (Ed.), Psychological perspectives on the self, Vol. 4, pp. 27–58.
Chen G, Gully SM, Eden D. (2004). General self-efficacy and self-esteem: Toward theoretical and empirical distinction between correlated self-evaluations. Journal of Organizational Behavior, 25, 375–395
Richard P. Bagozzi (1980), "The Nature and Causes of Self-Esteem, Performance, and Satisfaction in the Sales Force: A Structural Equation Approach" , The Journal of Business, Vol. 53, No. 3, Part 1 (Jul, 1980), pp. 315-331.
Judy P. Strauss, (2005) "Multi-source perspectives of self-esteem, performance ratings, and source agreement", Journal of Managerial Psychology, Vol. 20 Issue. 6, pp. 464-482.
Timothy A. Judge, Christine L. Jackson, John C. Shaw and Brent A. Scott and Bruce L. (2007), "Self-Efficacy and Work-Related Performance: The Integral Role of Individual Differences", Journal of Applied Psychology, Vol. 92, No.1, pp. 107-127 .
Cynthia LeRouge, Anthony Nelson and J. Ellis Blanton (2006), "The impact of role stress fit and self-esteem on the job attitudes of IT professionals", Journal of Information and Management, Vol. 43, Issue 8, 2006, pp. 928-938.

...

Less