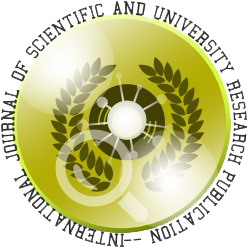 Teachers' Perception of Principals' Adversity Quotient as Correlate of Their Job Performance in Public Secondary Schools in Anambra State, Nigeria
Authore(s) : UzohoIfeoma;AkudoFlorence U.
Volume : 8, Issue : 8, October - 2021
Abstract :
The study investigated teachers' perception of principals' adversity quotient as correlate of their job performance in Public secondary schools in Anambra State. Four research questions guided the study. A correlational survey research design was adopted for the study. The population of the study consisted 4,370 teachers in the six education zones of Anambra State. A sample of 875 teachers was drawn using a multistage sampling procedure. Two sets of researchers'-developed instrument titled Principals' Adversity Quotient Scale (PAQS) and Teachers' Job Performance Scale (TJPS) which were validated by three experts was used for data collection. The instruments were face validated by three experts and subjected to internal consistency test using Cronbach alpha method which yielded 0.75, 0.68, 0.71 and
0.74 for the four sections of PAQS with overall coefficient of 0.72 while 0.84 was obtained for the TJPQ. Pearson' Product Moment Correlation was used to analyze
data  for the  study.  Findings  of  the  study indicated  that  a  substantial  positive relationship exists between teachers' perception of principals' control over adversity, principals' ownership of the outcome of adversity, principals' endurance and their job performance in public secondary schools in Anambra State. Based on the findings, it was recommended among others that secondary school principals in the state should constantly predict and take charge of difficult situations and foster adaptive preparedness in order to stimulate teachers' sense of confidence which will stimulate their job performance. Principals should as much as possible try not to allow difficult situations in the school to extend or "reach into" and affect other areas of the school and beyond. They should learn to put difficult situations under control by keeping the reach at bay. This can be essential in inspiring teachers towards improved job performance
Keywords :
Adversity, Adversity quotient, job performance.
Cite This Article:
Teachers' Perception of Principals' Adversity Quotient as Correlate of Their Job Performance in Public Secondary Schools in Anambra State, Nigeria
Vol.I 8, Issue.I 8
Article No : 986
Number of Downloads : 102
References :

Abdullahi, E. O. & Onasanya, S.A. (2010). Challenges facing the administration of educational assessment measures at the secondary  school         level         in Nigeria. Journal of Applied Sciences, 10 (4), 2198-2204. Ablaña, M.V. (2015), Correlation between adversity quotient and job performance of LGU employees of Tayabas City:   input to effective public personnel management. Unpublished Masters' thesis,...

More

Abdullahi, E. O. & Onasanya, S.A. (2010). Challenges facing the administration of educational assessment measures at the secondary  school         level         in Nigeria.

Journal of Applied Sciences, 10 (4), 2198-2204.

Ablaña, M.V. (2015),

Correlation between adversity quotient and job performance of LGU employees of Tayabas City:   input to effective public personnel management.

Unpublished Masters' thesis, Southern Luzon State University College of Arts and Science, Tayabas. Aquino, J. (2013). Adversity quotient, leadership style and performance of secondary school heads and commitment to organizational values of teachers in the province of Tarlac.

International Education Studies, 10(10), 143-160

. Retrieved  May 15, 2021 from: https:/

/www.peaklearning.com/documents/PEAK_GRI_aquino.pdf

Bakare, B. M. (2015).

Students' adversity quotient and related factors as predictors of academic achievement in the West African senior school certificate examination in southwestern Nigeria.

Unpublished PhD Dissertation, University Of Ibadan, Ibadan Nigeria. Baroa, E.D. (2015).

Adversity quotient and leadership skills of school administrators: Basis for Leadership Enhancement Program

. Unpublished Masters' Thesis, Philippine Normal University Visayas. Capones, A. R. (2004).

Adversity quotient and the performance level of selected middle managers of the different departments of the city of manila as revealed by     the   360-Degree   feedback   system

.   Unpublished,   masters'   thesis, Pamantasan ng Lungsod ng Maynila, Philippines. Carnivel,  L.  D  (2010).  Principals'  adversity  quotient:  styles,  performance  and practices.

International Journal of Education and Research, 5

(2), 124-1137. Chamundeswari, S. (2013). Job satisfaction and performance of school teachers.

International Journal of Academic Research in Business and Social Sciences, 3

(5), 420-428. Epetuku, F. (2019).

Relationship between Principals' adversity quotient and leadership styles in secondary schools in Delta State, Nigeria

. Unpublished maters' thesis, Department of Educational Management and Policy, Nnamdi Azikiwe University, Awka. Fehintola, J.O. (2014). Teachers' characteristics as Correlate of students' academic performance among secondary school students in Saki-West local government area of Oyo state.

Journal of Educational and Social Research, MCSER

Publishing, Rome-Italy, 4 (6), 459-468. Maiquez, R., Preolco, A., Sausa, L., & Talatagod, K. (2015). Predictive ability of emotional intelligence and adversity quotient on academic performance of USC college students.

International Journal of Educational Development,3

(1), 15-28. Mwangi, J.W. (2013). Effects of leadership styles on teachers' job performance and satisfaction: A case of public secondary school in Nakuru Country, Kenya,

Unpublished M.Ed. thesis

, Kenyatta University. Nnaemego, O.S (2021).

Principals' awareness and application of total quality management strategies for secondary school improvement in Rivers State.

Unpublished PhD Dissertation, Department of Educational Management and Policy, Nnamdi Azikiwe University Awka. Nworgu,  B.  G.  (2015).  

Educational  research:  Basic  issues  and  methodology

. Owerri: Wisdom Publisher. Obiekwe, K.K., & Ezeugbor, C.O. (2019). Correlate of principals' ethical leadership dimensions and teachers' job commitment in public secondary schools in Anambra State, Nigeria.

European Journal of Education Studies, 6

(5), 61-72. Ogundele & Olarewaju, M. (2014). Teachers' job satisfaction and job performance of secondary schools in Kwara State.

International Journal of Research,

1 (2), 1129-1138. Okorji,  P.N.  &  Epetuku, F. (2019).  Relationship  between  Principals' adversity quotient and leadership styles in secondary schools in Delta State, Nigeria.

International Journal of Scientific and Research Publications

9 (7), 2250-3153. Peter,  I.  (2017).  Problems  and  Prospects  of  Secondary  Education  in  Nigeria.

International Institute of Academic Research and Development 3

(1) 33-49. Stoltz, P.G. (1997).

Adversity Quotient: Turning obstacle into opportunities.

New York: John Wiley & Sons, Inc. Stoltz, P.G. (2000).

Adversity quotient at work; make everyday challenges the key to your success: Putting the principles of AQ into action.

New York: Morrow. Utami,  M.,  &  Hawadi.  (2006).  Kontribusi adversity  quotient  terhadap  prestasi belajar SMU program percepatan belajar di Jakarta.

Jurnal Penelitian Psikologi

, 2(11), 137-148. Uzoma,  A.  (2010)  Administrative  challenges  confronting  school  principals  in Nigeria: a gender-based perspective.

Global Academic Journal 21(3)90-105.

Venkates J, Shivaranjani, G, Thenmozhi, S, Balasubramanie, P, & Gandhi, S, M. (2014). Adversity Quotient and Resilient HR Culture: A Success Strategy for Organizations.

International Journal of Scientific Research and Management

2(8), 1236-1240. FOR MORE DETAILS ABOUT ARTICLE VISIT: http://ijsurp.com/2021/10/teachers-perception-of-principals-adversity-quotient-as-correlate-of-their-job-performance-in-public-secondary-schools-in-anambra-state-nigeria/?id=8085 ...

Less